Kyocera Communications Inc. (KCI), the newly formed sales, marketing and service organization for Kyocera- and Sanyo-branded wireless devices in the Americas, today announced two new Kyocera CDMA handsets at the CTIA Wireless 2009 trade show in Las Vegas. The G2GO M2000 (pronounced "Good-to-Go") and Laylo M1400 address a need for affordability and value in today's challenging economy, yet they also come from product categories in which Kyocera has rich history and expertise.
The G2GO M2000 is Kyocera's third-generation handset to offer a full QWERTY keypad in a low-cost, text-centric device. It's a category Kyocera helped to create with the introduction of the Strobe in early 2006. Kyocera's Laylo M1400 is an ultra-stylish slider design, a form factor Kyocera brought to the North American CDMA handset market in 2003 with the SE47 Slider.
"The G2GO and Laylo support our current strengths as an innovative leader in handset manufacturing providing consumers with a blend of style, functionality and affordability," said Eric Anderson, vice president of sales at KCI. "The integration of Kyocera Wireless and the former Sanyo mobile handset group is expanding those strengths to include higher-tiered handsets going forward while still providing functional, affordable and feature-rich devices like these."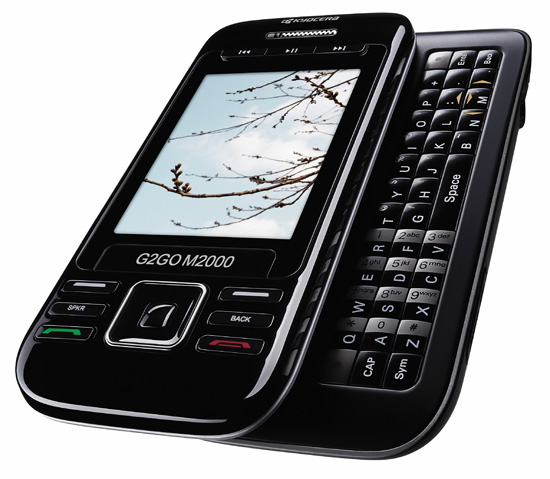 Kyocera G2GO M2000
A follow-up to the very successful Lingo M1000 QWERTY handset, the Kyocera G2GO M2000 sports a stylish design with slide-out QWERTY keypad and Bluetooth® wireless technology to make messaging a snap via SMS, EMS, MMS, Instant Messaging, and IMAP/POP3 email*. For the photo obsessed, the G2GO can't be beat. It includes a full-featured 1.3 megapixel camera with dedicated key, digital zoom and photo editing. The phone uses an accelerometer to switch the huge 2.4-inch QVGA display from portrait to landscape orientation as the phone is turned. The G2GO also features a music player with dedicated keys and playlist management and a microSD™ card slot for up to 8GB of additional music and picture storage.
Additional features include built-in MP3 and polyphonic ringtones, screensavers, wallpapers and caller alerts, predictive text-input software for rapid text entry, Java™ support, a WAP 2.0 browser and BREW® 3.1.5 technology to download games, ringers, wallpapers, and more. Voice recognition features include voice tags, voice digit-dialing and voice response. Handy tools include scheduler, calculator, alarm clock, stopwatch, tip calculator, countdown timer, voice memos and airplane mode along with a directory that can store up to 500 contacts.
The handset measures 113 x 52 x 17 mm, weighs just 120 grams and boasts a talk time up to 250 minutes and standby time of up to 200 hours.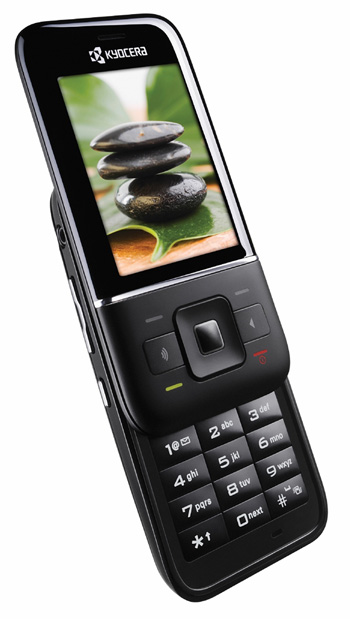 Kyocera Laylo M1400
The Kyocera Laylo slides into style with a compact design that opens to a large, bright 2.2-inch contoured QVGA display for edge-to-edge screen viewing. Perfect for the on-the-go user, the Laylo features a slide-out self portrait vanity mirror on the back. A large keypad with tactile and visual separation makes for faster, easier typing. The very affordable handset also features a VGA camera with digital zoom for quick snaps. The Laylo features Bluetooth® 2.0 wireless technology, a WAP 2.0 browser, and is both BREW® 3.1.5 and JAVA™ enabled.
Other great Laylo features include a speakerphone with dedicated key, speaker-independent voice recognition, MMS, SMS and instant messaging, a contact directory of 500 names with up to five numbers each and convenience tools such as alarm, calculator, scheduler, stopwatch, timer, tip calculator and world clock.
The handset measures 94.7 x 46.7 x 17.0 mm and weighs in at just 90 g. It boasts a talk time of up to 200 minutes and a standby time of 200 hours.
About Kyocera Communications Inc.
Kyocera Communications Inc. (KCI) is the sales, marketing, customer engineering and service headquarters for Kyocera- and Sanyo-branded wireless products and accessories in the Americas. The company's devices are driving the convergence of telecommunications, broadband and multimedia. KCI was formed in April 2009 through the combination of Kyocera Wireless Corp. and Kyocera Sanyo Telecommunications Inc., two wholly owned subsidiaries of Kyocera International Inc. The former was created when Kyocera purchased QUALCOMM Incorporated's consumer wireless phone business in 2000, while the latter was formed when Kyocera purchased the wireless phone business of Sanyo Electric Co., Ltd. in 2008. Based in San Diego, KCI leverages Japan's history of creating advanced consumer technologies around humanism and respect for the environment and blending them with a Western entrepreneurialism and style, resulting in a unique design language and a natural, user-friendly interface. For more information, please visit www.kyocera-wireless.com.
Source: Press Release