Nokia announced the latest addition to its Eseries range, the Nokia E63, designed for people who need to manage their business and personal lives equally well. Building on the success of the Nokia E71, the company's flagship messaging device, the Nokia E63 brings the QWERTY keyboard form factor to a broader audience at a great price.
The Nokia E63 is expected to begin shipping in the coming weeks for an estimated retail price of EUR 199, before taxes and subsidies.
"Our research shows that people want a device that deals with both their personal and professional lives, but helps them to separate the two. When someone sits down at lunch, they want to update their social network or browse their personal email account and they don't want work getting in the way of that. It's another great case of technology adapting to the people that use it," says Soren Petersen, Senior Vice President, Nokia. "The Nokia E63 is a new proposition for Eseries – a messaging device where people will be just as involved in their social network as they are in their business network."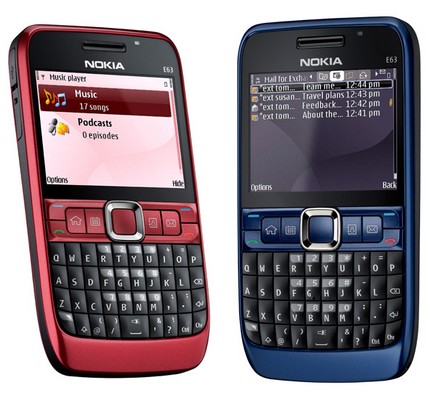 Whilst appealing to a new group of consumers with a design that feels great in the hand and has two new colors, the Nokia E63 is still very much a member of the Eseries family. Petersen continues, "People use Eseries to access their corporate mail, review their calendar and work in their business network, so the Nokia E63 still includes Wi-Fi connectivity, easy access to Mail for Exchange and dedicated key access to contacts, calendar and email."
The Nokia E63 also has the ability to switch modes with a single key press, switching from a view of corporate mail, appointments and intranet data, to a personal mode with a picture of friends, personal email and shortcuts to favorite hobby blogs or websites. Petersen adds, "The amazing response we have seen to the Nokia E71, which has very quickly become the best selling model in its category, let us know that we are heading in the right direction. People want a rich experience when using messaging, social networks and the Internet. With the Nokia E63 you can enjoy the web, update your status and work meaningfully with multiple email accounts."
The Nokia E63 also includes Files on Ovi, a service where people can get remote access to their PC files even when their computer is offline. Anyone buying the handset will have access to 1GB of online file storage for free.
The Nokia E63 will be available in ruby red or ultramarine blue with a range of multimedia features.  Record and view images and videos with the digital camera and bright landscape display, listen to music downloaded from the Nokia Music Store, or a number of other sources, via the standard 3,5 mm audio jack or customize the device through the thousands of applications available for download.