Samsung Telecommunications America (Samsung Mobile), the No. 1 mobile phone provider in the U.S., and T-Mobile USA, Inc. today announced their latest text-friendly messaging phones, the Samsung ComebackTM (SGH-t559) and Samsung GravityTM 2 (SGH-t469).
Complete with full QWERTY keyboards, T9® predictive text and auto word completion, the Comeback and Gravity 2 are available exclusively through T-Mobile USA. Powered by T-Mobile's high-speed 3G network, the new phones also offer fast downloads and quick access to the Web to stay up-to-date on the latest news, weather and entertainment.
The Samsung ComebackTM is a stylish messaging phone with a unique side-flip that reveals a full QWERTY keyboard. Available in pearl white plum or frost silver cherry, the Comeback takes messaging to the extreme with access to E-mail and text, picture, video and instant messaging. A built-in 2-megapixel camera with digital zoom and T-Mobile's 3G network allows customers to easily take and send pictures to friends and family or upload images to their favorite social networking sites. The Comeback also features a MP3 player and support for up to 16 GB of expandable memory.
Following the popular Samsung Gravity that launched last year, the Samsung GravityTM 2 also features a horizontal, slide-out QWERTY keyboard and boasts a thinner, sleeker design. The Gravity 2 offers a pair of fun color options – berry mauve and metallic pumpkin, multiple messaging capabilities, a 2-megapixel camera and camcorder, a built-in MP3 player and expandable memory up to 16GB.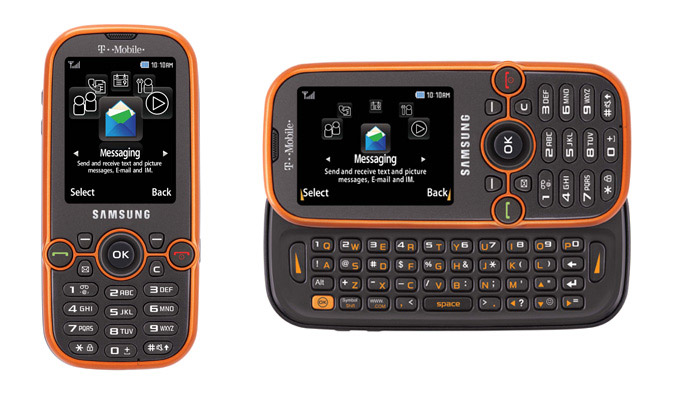 With a rich Web experience through T-Mobile's web2goSM service, both the Comeback and Gravity 2 can access the entire Web, optimized for their phone with a personalized home page for easy one-click access to favorite Web sites, fast and easy search results with Yahoo OneSearch, live news feeds with the web2go widget, and a plethora of T-Mobile services including the latest ringtones, games, wallpapers and applications.
"Our customers send and receive a lot of text messages, therefore it's important that we offer phones that compliment the way our customers communicate," said Wendy Piñero-DePencier, vice president, brand and calendar marketing, T-Mobile USA. "We're excited to be working with Samsung on these two new messaging phones, the Samsung Comeback and Samsung Gravity 2."
The Comeback and Gravity 2 complement T-Mobile's existing line-up of text-friendly Samsung handsets including the Samsung t349 (SGH-t349), a bar-style messaging phone featuring a 20-key, partial QWERTY keypad. The t349 offers access to E-mail, Instant Messaging and picture, video and text messaging, as well as several multimedia features.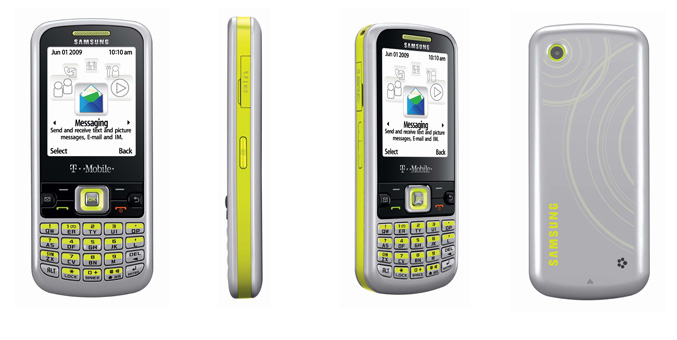 "Samsung's new messaging phones are fun and easy to use to match the needs of our customers," said Paul Golden, Chief Marketing Officer for Samsung Mobile. "The Comeback, Gravity 2 and t349 offer the best in messaging, fun color options and access to customers' favorite multimedia features."
The Comeback is available in T-Mobile stores starting today for $129.99 with a two-year service agreement, the Gravity 2 is anticipated to be available in August and the t349 is available now for $14.99 with a two-year service agreement*.
Source: Samsung