Samsung Electronics UK, the world's second largest mobile phone manufacturer, today announced the launch of the Samsung i8510, which will be available in the UK in partnership with The Carphone Warehouse, early September 2008. This will be the first 8MP camera-phone to launch in the UK market.
The Samsung i8510 takes mobile handset photography and multimedia experience to new heights. It offers users top of the range camera technologies, a surround-sound cinematic video experience, the best mobile Internet browsing experience and mobile gaming capabilities.
Efficiently designed for mobile multimedia, the Samsung i8510 provides devout gadget addicts with the most innovative 24/7 multimedia entertainment features. It also offers a fun, easy to use experience for those who want to get the most out of their mobile phones.
"The Samsung i8510 is another milestone in mobile phone technology," said Mark Mitchinson, Vice President of Samsung Mobile UK and Ireland. "Samsung has always produced high-quality camera-phone technology, and to be the first company to launch an 8MP multimedia device in the UK is a proud moment for everyone involved and demonstrates beyond any doubt that Samsung is very much on the ascendancy. The Samsung i8510 offers a staggering array of multimedia technology to enhance and reward the consumers experience at every level."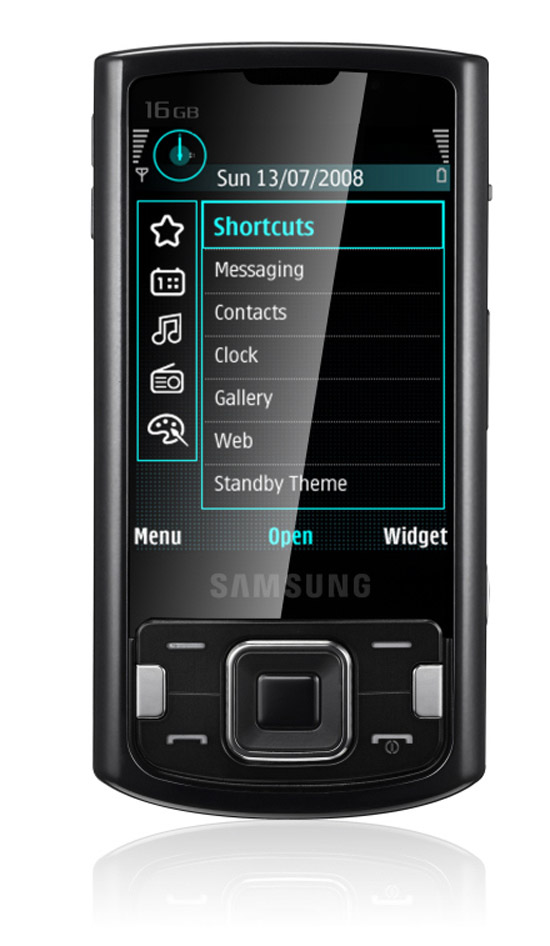 He continued: "This certainly marks a new era in mobile phone technology and we're excited to be launching the Samsung i8510 in partnership with The Carphone Warehouse."
George Dymond, The Carphone Warehouse UK Trading Director said, "In only a few years we have seen camera-phone technology improve from just 1MP to a now staggering 8MP. The Samsung i8510 really draws a line in the sand as a mobile phone with absolutely brilliant camera technology. I'm delighted to bring our customers the Samsung i8510 who can upgrade their mobile phone but also their camera with this great device."
A groundbreaking multimedia and Internet experience
The Samsung i8510 is perfect for capturing and storing precious memories in style. Using the latest in imaging applications such as smile shot, multi shot and face recognition, the memorable moments can be stored in their best quality. Users can enjoy personalising and editing their photos, videos and music with Movie Maker and Story Board applications. The handset also acts as a digital photo frame, allowing users to display their favourite images.
The Samsung i8510's crystal clear 2.8″ 16M colour LCD, is perfectly designed to provide users with the best possible photography, video and gaming experience on-the-go. The internal 8GB memory and external memory slot capable of holding up to an additional 16GB provides significant contents storage space. A 1200mAh battery provides a long enough battery life to enjoy all the multimedia experience without worrying about limits on size and time.
Supporting a wide range of video player formats including DivX, WMV, Real Player and MPEG4, users can enjoy an exciting pocket cinema experience. Its external dual speakers and 3D surround sound supported by DNSe 2.0, make every video clip and movie more realistic than ever.
The Samsung i8510 is also ideal for enthusiastic gamers. It comes pre-embedded with two of the world's most famous games, Asphalt 4 3D and FIFA 08. The handset has been chosen as the official phone for the World Cyber Games 2008, which begins on 25th July.
The Samsung i8510 offers the best ever mobile web browsing experience. With an optical mouse and 4-way navigation key, users can enjoy a PC-like browsing experience. Both HSDPA high speed Internet and WiFi connection offer convenient and seamless internet experience wherever users are.
The phone is equipped with A-GPS technology, offering navigation and geo-tagging service. It also comes with the Symbian OS V9.3, S60 3rd Edition Feature Pack 2, which helps users to easily download various ready-made applications for Symbian mobiles.
The Samsung i8510 will be supported by a large-scale ATL and BTL advertising campaign.
Samsung i8510

Product Factsheet

Network

HSDPA 7.2 Mbps, EDGE / GPRS (850/900/1800/1900/+900/2100 MHZ)

OS

Symbian OS V9.3, S60 v3.2

Display

2.8″ QVGA 16M TFT LCD

Camera

8 Megapixel CMOS

with AF and Dual Power LED

Smart Reader, Image Stabilizer, Auto-Panorama Shot, Smile Shot,

Multi Shot, Wide Dynamic Range (WDR), Face Detection

Video

Video Player (DivX / H.263 / H.264 / WMV / MP4/ Real)

QVGA 120 fps Video recording, VGA 30 fps recording

Video Editing

Audio

FM Radio with RDS

DNSe 2.0

Music Player (MP3/ AAC / AAC+ / eAAC+ / WMA / RealAudio)

3.5mm output

Value-added Features

A-GPS

Optical Mouse, Accelerometer

Embedded 3D Games : FIFA 2008, Asphalt 4 3D

Digital Living Network Alliance (DLNA)

Connectivity

Bluetooth 2.0 / USB 2.0 / Wi-Fi

Memory

8GB Flash + External Memory slot : microSDHCTM (up to 16GB)

Size

106.5 x 53.9 x 17.2 mm

Battery

1200 mAh

Talk time: up to 300/510 min (3G/2.5G)

Stand-by time: up to 330 / 310 hrs (3G/2.5G)