From CTIA WIRELESS 2010® in Las Vegas, Verizon Wireless and Skype announced Skype mobile™ will be available this Thursday, March 25, starting with nine Verizon Wireless 3G smartphones. Skype mobile uses the Verizon Wireless voice network for the wireless connection of the Skype-to-Skype calls, providing Verizon Wireless customers with a superior experience and top-notch call quality.
Beginning Thursday, new and existing Verizon Wireless customers with Android 3G smartphones and BlackBerry 3G smartphones can get Skype mobile in a number of ways. Visit www.verizonwireless.com/skypemobile or www.skype.com/go/mobile from a PC to enter the mobile phone number to receive a text message with a link to the application. Verizon Wireless customers can also text "SKYPE" to 2255 to receive the link. In addition, Android customers will be able to download the app from Android Market™. New BlackBerry customers will find the application on their 3G smartphones' home screens in the Downloads folder when activated.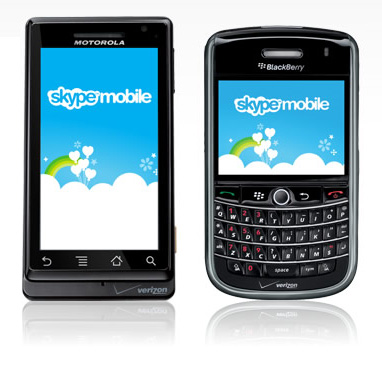 Skype mobile gives Verizon Wireless 3G smartphone users with data plans a simple new way to stay in touch with friends, family and business colleagues around the corner and around the world while on Verizon Wireless' network. Skype mobile users can:
make and receive unlimited Skype-to-Skype voice calls to any Skype contact around the globe;
send and receive unlimited instant messages with other Skype users;
manage the Skype contact list directly from the mobile application; and
call international phone numbers at competitive Skype calling rates.
John Harrobin, senior vice president of digital media and marketing, noted, "Skype mobile will change the way mobile consumers in the United States make and receive calls. With an 'always on' capability, Skype mobile on your 3G smartphone means you never have to miss a call or make an appointment to connect with Skype users around the world. With Skype mobile, we're untethering Skype users from their PCs and enabling them to stay connected – on the best wireless network in the country."
Russ Shaw, general manager of Mobile for Skype, noted, "Skype mobile will deliver an unparalleled experience for Verizon Wireless customers. It will be the best way to enjoy unlimited conversations with Skype contacts all over the world at no extra cost. In addition, Skype mobile will allow people to easily and inexpensively make calls to landlines and mobiles abroad at Skype rates."
Customers need a Verizon Wireless smartphone and data plan to use Skype mobile. Skype-to-Skype calls will not be charged against their monthly minute allowances or data plans. Verizon Wireless customers can visit www.skype.com to purchase Skype Credit to make Skype Out calls and make calls to international landline or mobile numbers.
Skype and Verizon Wireless have been working together to create this application specifically for Verizon Wireless customers and to take advantage of the most reliable wireless network in the United States.
Skype mobile will be available initially on millions of best-selling Verizon Wireless 3G smartphones, including the BlackBerry® Storm™ 9530, Storm2™ 9550, Curve™ 8330, Curve™ 8530, 8830 World Edition, and Tour™ 9630 smartphones, as well as DROID by Motorola, DROID ERIS™ by HTC and Motorola DEVOUR™.
Source: Skype, Verizon Wireless