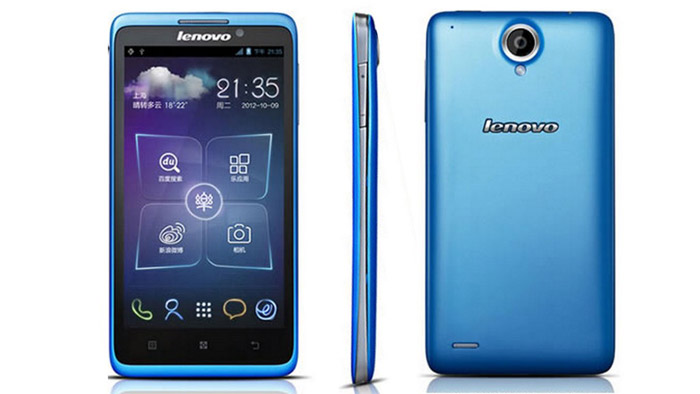 At the on-going CES 2013 in the USA the Chinese tech giant Lenovo has announced a new smartphone portfolio that consists of five new smartphones – the Lenovo S890, S720, P770, P800 and A690. The common thing among all of them is that they all support two SIM cards at the same time, but the differences start here…
The Lenovo S890 is a smartphone that has been specifically designed for multimedia and gaming and comes with a 5-inch qHD display at 960 x 540 pixels, a rear 8 MP camera and a thin (9.3 mm) and light (176 grams) chassis. The smartphone runs a modified version of Android, but the exact Android version is unknown.
The Lenovo S720 is also a multimedia smartphone – this one comes with a 4.5-inch display at 960 x 540 pixels and has a dual-core MTK processor, a rear 8 MP camera, a front 1 MP camera and a 2000 mAh battery. In addition the S720 sports a 9.9 mm thick chassis, Dolby Digital Plus audio and Lenovo Super Camera software for the built-in cameras.
The Lenovo P770 is a business-oriented smartphone. It comes with a powerful 3500 mAh battery and a USB on-the-go port that allows the user to charge other devices using the P770. Thanks to its powerful battery the P770 delivers up to 30 hours of talk time and sports pre-installed antivirus software for increased data security.
The Lenovo A800 is a budget-oriented smartphone that comes with a 1.2 GHz dual-core processor, a 4.5-inch FWVGA display and a 2000 mAh battery and is perfectly suited for the casual user who needs photo sharing, games and web browsing.
Finally Lenovo A690 is the last Lenovo smartphone of the pack. It is the first smartphone of its class that features a 1 GHz processor and in addition to it comes with a 4-inch WVGA display at 800 x 480 pixels.
The new Lenovo smartphones will become available in China and some other markets this month. Pricing is unfortunately unknown.
Source: Lenovo