After unveiling of LG Mini GD880, today LG announced a new touchscreen phone – the LG Cookie Plus GS500. The new slick handset presented as "Sociable, enjoyable and affordable", features 3G connectivity, fun graphical interface with widgets and social networking connectivity like Facebook, Twitter and Flickr.
The Cookie Plus also includes 3-inch TFT resistive touchscreen with 240 x 400 pixels resolution, 3 megapixel camera, MP3 player  FM tuner, HSDPA 7.2 Mbps,  Editable Screenshot MMS and LG's unique peer management application LiveSquare.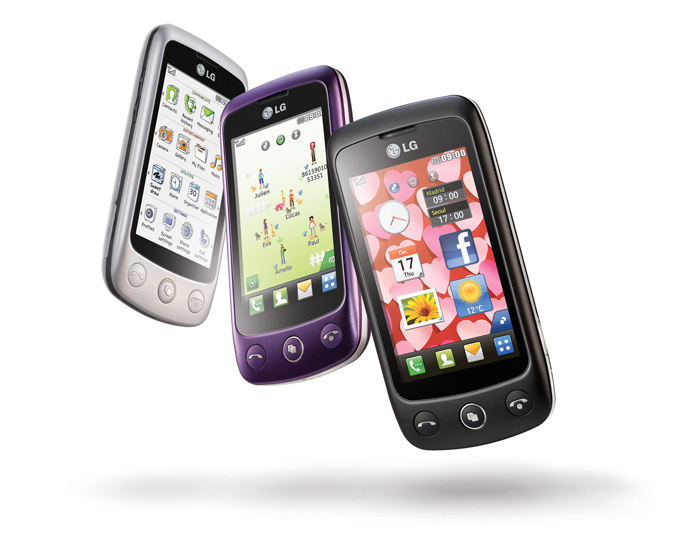 "The LG Cookie Plus is both a celebration of the original Cookie phone, which brought touchscreen technology to all, and an exciting first step in our new line of phones that will continue the Cookie legacy by adding creativity and affordability to the touch experience," said Dr. Skott Ahn, President and CEO of LG Electronics Mobile Communications Company.
The LG Cookie Plus will be rolled out globally to 45 countries beginning with France and Italy in early March.
Cookie + Sociable
Simple & Intuitive SNS usability – A dedicated interface fits the world's most popular social networking sites to your phone for a faster, easier and more intuitive experience
LiveSquareTM – Bring your digital social networking to life with this peer management application that graphically keeps track of your most frequent contacts
Editable Screenshot MMS – Share more with this capture-edit-send feature, which allows you to draw or write on photos and captured screen shots and send via MMS for visually rich communication
Cookie + Enjoyable
Widget and Pocket Applications – Weather application preinstalled with support for a maximum of 40 possible on-screen widgets (applications may differ by country)
Cartoon-like UI with Customizable Color Themes – The animated interface offers a touch of fresh originality accentuated by the phone's 18 colourful themes for greater personal expression
Plus Multimedia – 3MP camera with digital zoom, MPEG 4 video and MP3 audio playback support with FM tuner for your enjoyment
Source: LG