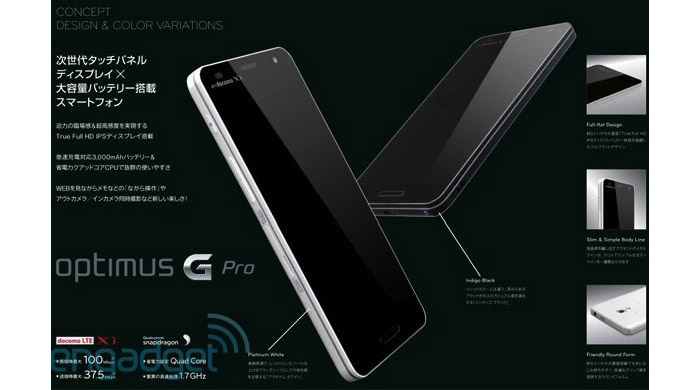 It looks like LG's flagship smartphone – the Optimus G – will soon be replaced by an improved version – the LG Optimus G Pro.
Being a high-end smartphone the Optimus G Pro will feature a 5-inch display at 1080p Full HD resolution. The smartphone will be based on a quad-core Krait processor that will run at 1.7 GHz (up from 1.5 GHz in the Optimus G) and a more powerful battery that reaches 3000 mAh of power.
Other specs include 2 GB of RAM, 32 GB of storage, support for LTE, dual-band Wi-Fi 802.11n, 13 MP camera and Android 4.1.1 Jelly Bean – all in a package that measures 139 x 70 x 10 mm for a total weight of 160 grams.
There's no word on market availability or pricing as of now.
Source: GSM Arena