MetalCompass is getting ready to reveal two new models of gaming accessories for smartphones – the Xappr and the Micro-Xappr guns. The new smartphone guns will be revealed at an international toy fair taking place in Nuremberg, Germany between February 1 and February 6.
Both guns allow players to play a variety of shooting games. "The Xappr gun has already more than 10 amazing augmented reality games that will allow the player to intercept alien spaceships, find and eliminate ghosts, fight evil flying robots, hunt a horde of blood thirsty zombies and the most important – engage in battle with other players" says Oren Shtark, MetalCompass' CDO.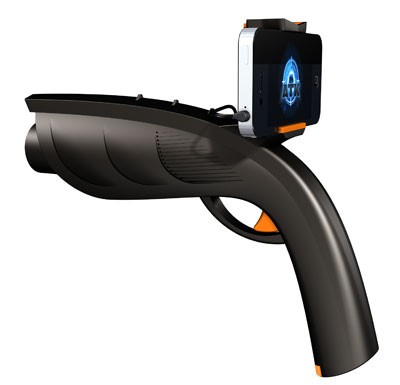 The novelty will work with iPhones and Android and Windows handsets, although at the moment only iOS and Android games are available. The Xappr guns will be shipped in June of 2012 but you can now preorder one now for a price of 30 USD plus 15 USD for shipping (in the US). The preorder offer is also valid for players from Canada and the EU.
In order to complement the smartphone guns MetalCompass will release this spring the first real world multiplayer first person shooter for smartphones – ATK. ATK will allow players to simulate combat scenarios with different types of weapons – guns, rifles, grenade launchers and powerful pulse weapons. ATK will support three battle modes: Death-match, Last Man Standing and Teams Mode.
Source: Cod4boards