Motorola, Inc. unveiled the vision behind its Android portfolio with the introduction of MOTOBLUR™. Developed by Motorola, MOTOBLUR is the first and only solution to sync contacts, posts, messages, photos and much more—from sources such as Facebook®, MySpace, Twitter, Gmail™, work and personal e-mail, and LastFM—and automatically deliver it to the home screen. Content is fed into easy-to-manage streams allowing you to spend less time managing your life and more time living it. MOTOBLUR will be available first on Motorola's new 3G Android-powered device, called Motorola CLIQ™ in the U.S. and Motorola DEXT™ elsewhere around the globe.
Sanjay Jha, co-CEO of Motorola and CEO of Motorola Mobile Devices, announced MOTOBLUR today during a keynote at GigaOM's Mobilize '09 conference.
"With MOTOBLUR we are differentiating the Android experience for consumers by delivering a unique mobile device experience designed around the way people interact today," said Jha. "MOTOBLUR, which will be available on our first Android-powered device and on multiple Android devices in our upcoming portfolio, helps us to create phones that are instinctive, social and smart."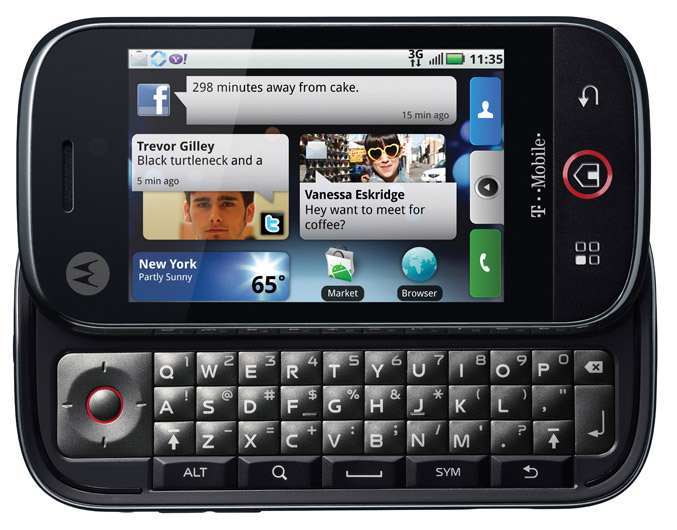 MOTOBLUR leverages Motorola's experience in mobile Linux and open platforms, and taps in to the broad Android ecosystem. The proprietary solution differentiates Motorola's product portfolio of Android-powered devices and supplies the power and flexibility to continuously deliver a variety of new and rich consumer experiences across a wide range of devices with multiple carrier partners.
Life: Organized, Streamed and Delivered
With MOTOBLUR, all conversation threads, friend updates, stories, links, photos and more are automatically delivered to live widgets on the home screen. There is no need to open and close different applications or menus. It's all organized, streamed and delivered throughout the device in unexpected ways:
Happenings: View all your social site updates in one spot with the live Happenings application. Every friend feed, status update, wall post, bulletin and photo upload is automatically delivered and ready for immediate reply, any way you like.
Messages: Quickly scroll through the Messages application for a snapshot of current work or personal e-mails, social site messages, and texts, with the ability to respond to any message however you want no matter how it was sent: text, email, IM and more.
Social Status: Blast your status right from the home screen and even save time by updating your status to one or all your social networks at once.
News Feeds: Keep track of your favorite news feeds, sports scores or even celebrity gossip without leaving the home screen.
Calendar: Integrate your work calendar with Google Calendar™ into one Calendar widget that shows the next appointment right from the home screen.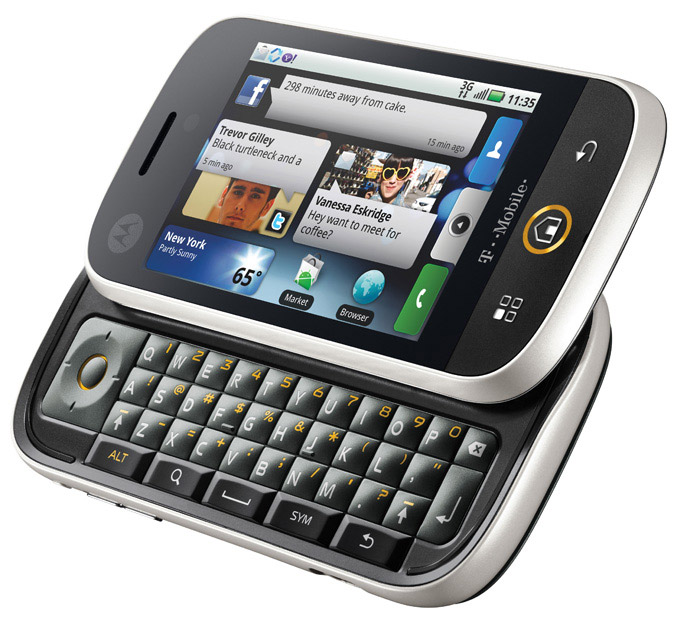 Integrated Contacts with Context
MOTOBLUR keeps track of all contacts so it's easy to keep up. Contacts are automatically synced to the phone from personal and work e-mail as well as social network accounts, and MOTOBLUR updates any changes friends or contacts make to their information so you don't have to. When making or receiving a phone call, your friend's latest profile picture and status is shown on the screen. In the contacts view, see your communication history with each person and their latest social network broadcasts organized in an easy-to-read manner so you'll always know the latest info about friends and family. Plus, communicate with them anyway you like, directly from their contact information.
Backed Up for Peace of Mind
MOTOBLUR is easy to set up and secure, so there is no need to worry about misplacing the phone. All contacts, log-in information, home screen customizations, e-mail and social network messages are backed up on the MOTOBLUR secure server. Lost or stolen phones can be found with integrated A-GPS from the online owner's portal, and data can even be wiped clean. Simply enter the account username and password on the next MOTOBLUR phone, and all the information will be ready and waiting.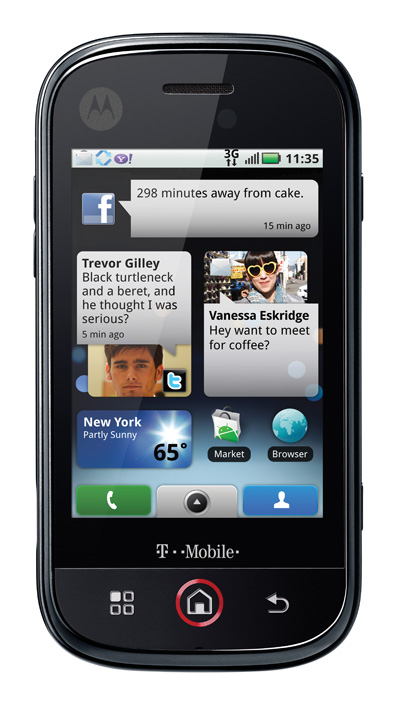 Customize with Apps and Widgets
On Motorola CLIQ, mix and match thousands of applications and widgets from MOTOBLUR, Android Market™ or pre-loaded Google™ mobile services. Everything from messages to news feeds to sports scores to the Happenings widget to Google Maps™ can be added to create custom home screens that fit anyone's multi-faceted life.
Delivered on the First Phone with Social Skills
MOTOBLUR will first be available on Motorola's new Android-powered device, called Motorola CLIQ in the U.S. and Motorola DEXT around the globe. This QWERTY slider comes packed with all the bells and whistles:
Never be out of contact with a full HTML browser, 3G speed and Wi-Fi.
Snap photos with the 5 megapixel camera with autofocus; upload photos simply to your favorite photo sharing or social sites.
Play back your favorite YouTube™ videos or capture them and easily upload them for your friends to view.
Use the 3.5 mm headset jack to plug in your own headphones and easily connect to your music, create your own playlist or discover new music by seeing what your friends are listening to on LastFM.
Availability Around the Globe
MOTOBLUR will be available first on select Motorola devices in the fourth quarter with regional carriers worldwide. In the U.S., Motorola CLIQ™ with MOTOBLUR will be available exclusively with T-Mobile USA. Motorola DEXT with MOTOBLUR will be available with Orange in the United Kingdom and France, Telefonica in Spain and America Movil in Latin America.
Source: Motorola