Motorola Canada today announced it will bring its first Android™-powered device, the much-anticipated Motorola Milestone, only to TELUS customers in early 2010. Motorola Milestone, powered by the newest version of Android, sets a new standard for what a smartphone should be with a richer mobile web experience, superior messaging and top-of-the-line multi-media features in an innovative design that could only come from Motorola.
Milestone features the best of both worlds with a full QWERTY keyboard and touch-screen capabilities, as well as the opportunity for users to customize their mobile like never before with widgets and the freedom to run multiple applications at once.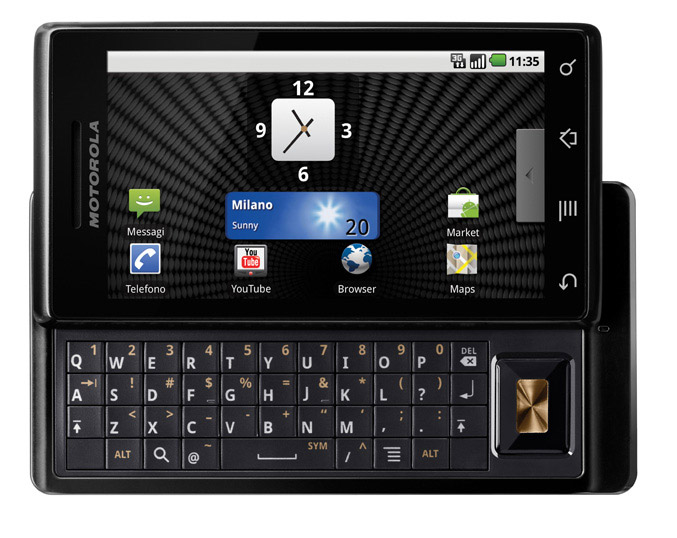 "With Motorola Milestone, Canadians will no longer be limited in what they can do with their smartphone," said Rick Gadd, vice-president, Motorola Canada Mobile Devices. "They will experience the web the way they've always wanted on a mobile device, with lightning fast speeds and pages that show them more."
Get the web, get it faster, see it better
Milestone takes the power of Google Search™ beyond the web right into the phone. Search and retrieve applications, contacts, songs, and more right from the home screen. With local search, Google™ makes location-based recommendations according to where the user is.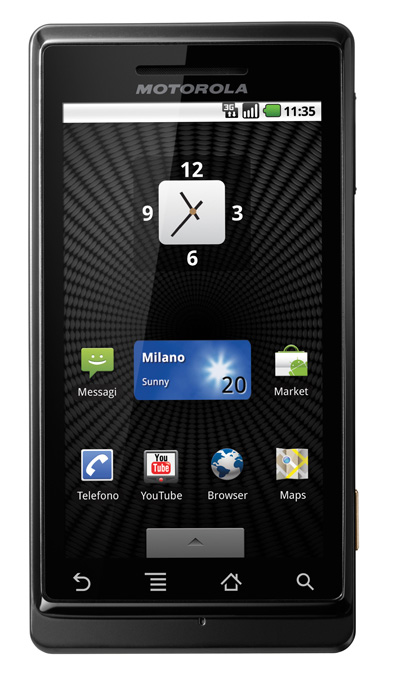 Experience the mobile web like never before. Milestone's 3.7" WVGA display offers a clearer, more brilliant screen with twice the resolution of its competitors. Quick and nimble, Milestone is always ready for lightning-fast browsing with its superior processing speeds, Flash 10-ready HTML browsing, and premium 3G+ connection speeds. Navigation has never been easier with double-tap and pinch and zoom.
"TELUS' new 3G+ network gives Canadians access to a world-class selection of mobile devices such as the Motorola Milestone," said David Neale, senior vice-president of Product and Services at TELUS. "It is TELUS commitment to offer Canadians the most comprehensive and advanced smartphone line-up available so that we can meet their needs to stay connected, informed and entertained wherever they go. That's why the Motorola Milestone will fit perfectly in our TELUS smartphone selection."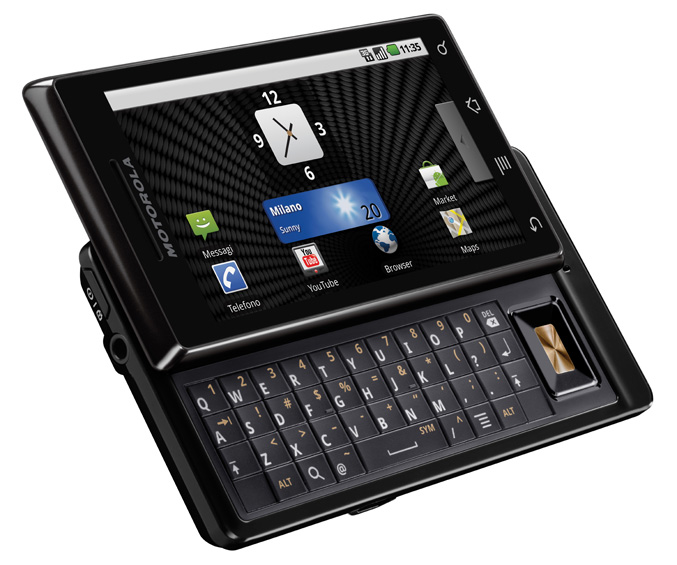 Express your digital self
With the world's thinnest full QWERTY slider, a widescreen display, and copy-and-paste capability, Milestone can text, IM and e-mail at blazing speeds. Personal and business lives co-exist in perfect harmony with work and personal email pushed directly to Milestone through Exchange-server support and GmailTM. Seamless contact integration keeps personal and professional lives in sync and provides access to friends through Exchange, Facebook™ and Gmail contacts.
Discover thousands of applications and hundreds of widgets available on Android Market™. Think of the home screen like a personalized desktop; download applications for music, news, sports or games and arrange them to create a custom home screen. And, with Milestone's Quick Connect option simply tap a contact and instantly access his/her via Facebook, phone, email or text.
A multi-media powerhouse
Milestone's brilliant crisp 16:9 widescreen display makes photos, videos and apps pop with cinematic bravado. Milestone's built-in 5 megapixel digital camera comes with AutoFocus, dual LED flash and image stabilization. When it comes to video, Milestone records DVD quality footage with one-touch broadcast-quality playback and easy 3G or Wi-Fi YouTube™ uploads.
Store favorite movies, photos and music on Milestone's out-of-the-box 16 GB of memory, expandable up to 32 GB. Manage it all using Motorola Media Link, which connects Milestone to a PC and the Web, providing the ability to manage, secure, share and extend media files.
And, when placed in its unique multi-media station1, Milestone automatically transforms into a multi-media hub for movies, music, pictures and can even act as your bedside alarm clock.
Additional Milestone Features
Superior call quality with CrystalTalk™ Plus that filters out background noise and enhances voice quality
Powered by the latest version of Android, Android 2.0
3.7" widescreen display with 854 pixel width and more than 400,000 total pixels (more than twice the leading competitor) so you can see more of the web, e-mail, and more
Use stereo Bluetooth® to take calls and listen to music hands-free
Plug your favorite headphones into the 3.5mm headset jack and kick back to your favorite music or movies
Full suite of Google applications including: Google Maps™, Gmail, Google Talk™, YouTube™, Google Latitude
Advanced Video record/playback at D1 resolution (720×480) with up to 24fps capture and 30fps playback
Availability
The Motorola Milestone will be available in Canada only for TELUS customers in early 2010. For more information please visit www.motorola.ca
Source: Motorola