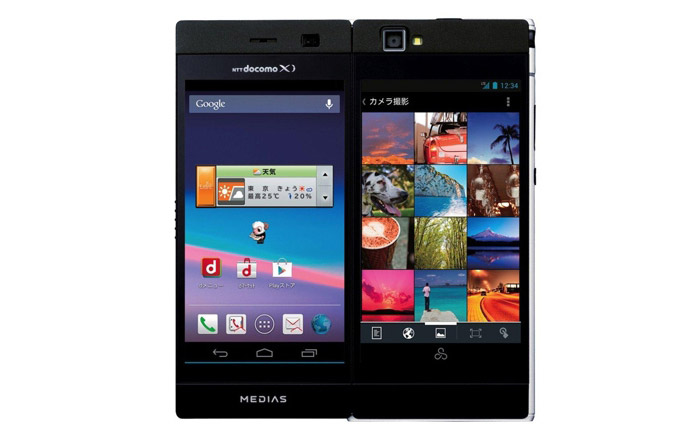 The Japanese company NEC along with the carrier NTT DoCoMo has announced the Medias W smartphone – an unusual new product that comes with two displays instead of one!
The two displays share the same tech specs and feature a size of 4.3-inches and a resolution of 960 x 540 pixels. Residing on the rear and front sides of the smartphone the two displays can be combined into a larger 5.6-inch part of which serves as a sensor QWERTY keyboard. Still, the entire 5.6-inch display can be used for other programs too like playing games or surfing the Internet.
Let's take a look at the hardware specs now – the NEC Medias W smartphone is built around a dual-core Qualcomm Snapdragon MSM8960 processor at 1.5 GHz and offers 1 GB of RAM, 16 GB of storage, an additional microSD card slot (up to 32 GB), support for LTE and 3G and a rear 8.1 MP camera. Other specs include Wi-Fi 802.11n, a built-in GPS system and a 2100 mAh battery.
Unfortunately the NEC Medias W will be released in Japan sometime in April of this year and as of now it is not clear if other markets will see the smartphone later on. Pricing is also unknown.

Source: Geek.com