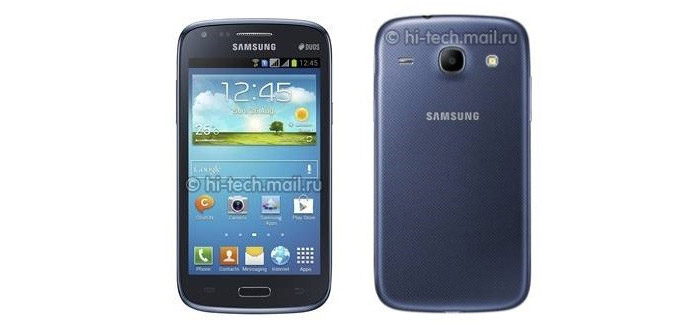 Samsung has disclosed details on a new upcoming smartphone that will hit the market under the tradename Galaxy Core.
The Galaxy Core will become officially available in May 2013. The smartphone is expected to include an unknown dual-core processor at 1.2 GHz, support for two SIM cards, a 4.3-inch WVGA display (800 x 480 pixel resolution), 768 MB of RAM, 8 GB of internal memory, a microSD card slot and a rear camera at 5 MP of resolution. There will also be a front VGA camera, an integrated GPS receiver, Wi-Fi and Bluetooth 4.0. Once released the smartphone will run Android 4.1 Jelly Bean.
The Samsung Galaxy Core measures 129 x 67 x 9 mm and weighs 140 grams. The smartphone is expected to cost EUR 320.
(picture courtesy of hi-tech.mail.ru)
Source: NDTV