Sony Ericsson announced its latest mobile phone, the T707, with tennis star and style icon Maria Sharapova, who perfectly epitomises the phone's sleek and elegant qualities.
The T707 truly interacts with the user – it lights up when you receive a call and you can personalise the light settings to each of your friends, so you always know who wants you.  If you are too busy to answer, simply end the call with a wave of your hand over the screen – you can also do the same gesture to snooze the alarm – your very own magic wand!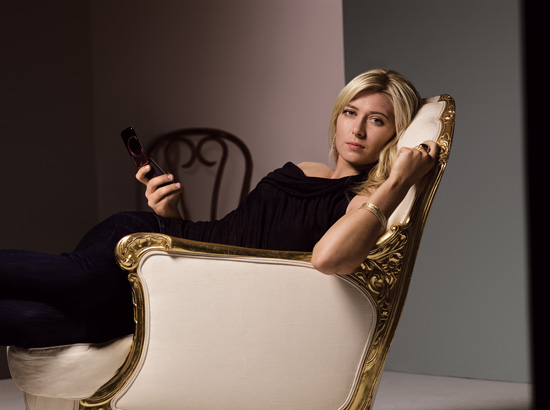 "The T707 is my ultimate new accessory," said Maria. "I am always on the go and I need a phone that is easy to use, and of course chic as well!  I never miss a call with the eye-catching light effects and personalised pulsation settings and I love the fact that I can just wave my hand to mute a call using the gesture control.  I can also use my practical and stylish Bluetooth™ Headset HBH-PV715 to take my calls, check my emails and blog to my website from the phone. It's great to have a phone that looks good but also lets me keep up-to-date with everything I need."
Perfect pixels for every pose
Coordinate the T707 to any outfit, as it comes in a rainbow range of three clam shells to suit every mood. Whatever you wear will be perfectly captured by the 3.2 megapixel camera, making sure that you stand out on screen as much as you do in real life.  The photos can then be uploaded to your personal social networking site using the HTML web browser, so you and your friends can keep up to date wherever you are.
Customise your phone like your clothes
With the T707 you will never be left behind in the style stakes, as the 2.2 inch screen is waiting to be customised to your individual taste.  The changing wallpaper themes will ensure that you are never caught wearing clashing colours!  The theme also changes from day into evening, which is perfect if, like Maria, you need to match with everything from tennis whites to a little black dress.
Packed with extras, as one option is never enough…
This is one accessory you will never leave home without as the T707 packs in more extras than even your handbag.  The FM radio and Bluetooth™ audio streaming will entertain you when you are out and about, and you can download music, games and ringtones at the touch of a button with PlayNow™ to ensure that boredom is something which happens to other people!
"The T707 is the next step in the style evolution from Sony Ericsson," said Linda Schori, Global Marketing Business Manager for Style Category, Sony Ericsson.  "Maria Sharapova is the perfect partner for us as she exemplifies not only elegance but also substance, just like the T707.  It works hard and is also sleek, glamorous and desirable – a truly winning combination!"
Maria knows that all eyes will be on her this season and thanks to her new T707; she can rest assured that whatever she does, she will look stylish, glamorous and be in control of her life with just the wave of a hand.
The T707
The light of your life
• Unique pulsating notification and light effects
•          Day and Night changing theme
•          Gesture control for muting calls and alarm
•          Capture moments with 3.2 MP camera
The T707 supports GSM/GPRS/EDGE 850/900/1800/1900 UMTS/HSDPA 2100. The
T707a supports GSM/GPRS/EDGE 850/900/1800/1900 UMTS/HSDPA 850/1900/2100. The T707 will be available in selected markets from Q2 in the colours Mysterious Black, Spring Rose and Lucid Blue.
The Sony Ericsson T707 at a glance
Camera
3.2 megapixel camera
Up to 3.2x digital zoom
Photo fix
Picture blogging
Video blogging
Video recording
Video light
Music
Media player
Mega Bass™
Album art
PlayNow™
TrackID™
Bluetooth™ stereo (A2DP)
Music tones (MP3/AAC)
Web
Access NetFront™ Web browser
Web shortcut search key
Web feeds
Photo feeds
Communication
Polyphonic ringtones
Speakerphone
Vibrating alert
Video calling (main camera)
Messaging
Email
Exchange ActiveSync®
Text messaging (SMS)
Chat View
Picture messaging (MMS)
Predictive text input
Sound recorder
Design
Light effects
Pulsating light notification
Gesture control
Day and Night changing theme
Picture wallpaper
Wallpaper animation
Entertainment
Media
YouTube™
3D games
Motion gaming
Java
FM radio with RDS
Video streaming
Video viewing
Connectivity
Bluetooth™ technology
Modem
Synchronization
USB mass storage
USB support
Organizer
Alarm clock
Calculator
Calendar
Flight mode
Notes
Phone book
Stopwatch
Tasks
Timer
Location-based services
Geo tagging of photos
Google Maps™
Accessories
In-box:
The T707
Battery
Charger
Stereo Portable handsfree
User documentation
Facts and Figures
Size: 93 x 50 x 14.1 mm
Weight: 95 grams
Colours:
Mysterious Black
Spring Rose
Lucid Blue
Main screen
Type: 262,144 colour TFT, scratch-resistant
Resolution: 240 x 320 pixels
Size: 2.2 inches
External screen
Type: Monochromatic OLED, scratch-resistant
Resolution: 128 x 36 pixels
Size: 1.1"
Phone memory: Up to 100MB
Memory card support:
Memory Stick Micro™ (M2™)
Talk time GSM/GPRS: Up to 10 hrs
Standby time GSM/GPRS: Up to 400 hrs
Talk time UMTS: Up to 4 hrs
Standby time UMTS: Up to 400 hrs
Video call time: Up to 2 hrs
Availability and versions
Networks
T707
GSM/GPRS/EDGE 850/900/1800/1900
UMTS/HSDPA 2100
T707a
GSM/GPRS/EDGE 850/900/1800/1900
UMTS/HSDPA 850/1900/2100
Source: Sony Ericsson