OCZ Technology Group, Inc., a worldwide leader in innovative, ultra-high performance and high reliability memory and components,  announced the highly-anticipated...
SteelSeries, the leading manufacturer of gaming peripherals and accessories, today, during CeBIT in Hanover, Germany, introduced the SteelSeries 6Gv2 keyboard....
Last week,  Razer has announced peripherals designed specifically for the release of Blizzard Entertainment's highly anticipated real-time strategy game StarCraft...
At Gamescom 2010, Razer unveils its newest gaming peripherals – the Razer BlackWidow and BlackWidow Ultimate mechanical gaming keyboards featuring...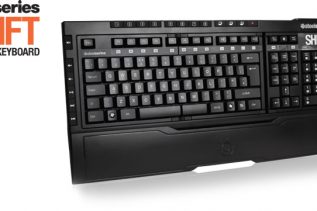 Gaming peripherals maker SteelSeries reveals its latest product, the new SteelSeries Shift gaming keyboard.
Razer adds a new weapon of choice for MMO gamers, which share the same successful design philosophy as their best-selling...
Zowie Gear has unveiled a new gaming keyboard called the Celeritas. The keyboard features mechanical keys and is designed to...