What's black and white and acts like a bamboo(m) box? The iPanda, an adorable iPod docking station by animal-themed audio...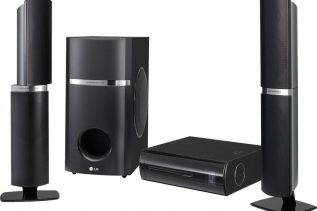 LG Electronic announced its ultra stylish 400 watt complete 2.1-channel Bluray HB45E Home Cinema System, which provides access to content...
Monster Cable and Disney Consumer Products introduced two stylish Tron-themed products for the fans – Daft Punk Tron Legacy Headphones...
Panasonic announce two new iPod D-docks – the SC-HC3 and the SC-HC4, which works with IPod music players, including iPod...
Panasonic today announced the debut of its first audio system with iPod dock and photo frame. The MW-10 combines several...
This Spring Sony offers two great new ways to fill the room with music from your iPod or iPhone....
Yamaha introduced the RX-V667 3D 7.1 Channal AV receiver, (90W x 7; MSRP $599.95) the BD-S667 Blu-ray player (MSRP $329.95)...