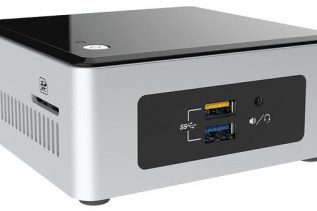 The US chip maker Intel has presented two new nettop computers, known as NUC5CPYH and NUC5PPYH. The two computers belong...
The Taiwanese Communication Technology has unveiled a new nettop that is so small it can claim the title of the...
Acer has rolled out a new digital device in the form of a nettop named Revo 70, based on AMD...
ASUS is proud to announce the launch of the EeeTop PC ET2010 series—an all-in-one PC designed to cater to everyday...
NVIDIA introduced the Next-generation NVIDIA® ION™ graphics processor today, which will supercharge netbooks with 10 times the graphics performance of...
Acer America, part of the world's third largest PC vendor , announced the new Veriton N260G-U2802CP, an ultra-compact nettop for...
German PC maker Medion unveiled The Medion Akoya Mini E2076 D nettop, but this  is actually the re-branded Pegatron ION...