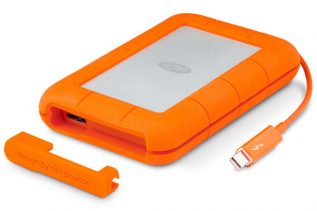 The premium brand of Seagate Technology, LaCie, has presented a new 1 TB model of its Rugged Thunderbolt solid-state drive...
The USB Implementers Forum has announced the upcoming arrival of a new and faster USB 3.0 standard that is capable...
The Taiwanese ASUS has introduced a new gaming laptop in the 14-inch market segment. One may think 14 inches is...
Here's something that you surely haven't seen before – a motherboard with two integrated GPUs!...
Yesterday was a big day for Apple and its fans as the US electronics giant unveiled a bunch of new...
ASUS has made it to another first in the computer hardware industry this time by offering the first Intel Thunderbolt-certified...
Apple today has officially introduced its new Thunderbolt Display which comes with a pair of Thunderbolt interfaces, turning it in...