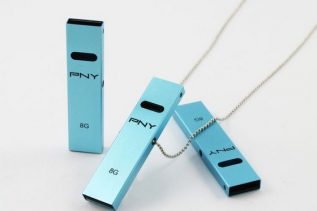 USB flash drives have become an everyday necessity and their huge numbers, popularity, ease of use and low price have...
Verbatim has launched a new ultra-small Store 'n' Stay USB flash drive which has approximately the size of a nano...
The campny PQI has launched another flash drive which you might think is the usual fancy looking USB drive, but,...
Sony today add a new model to its MICROVAULT USB drive line-up, the entry-level, ultra-compact Microvault Style USB drive....
Active Media releases a 22-caliber bullet which is the only one effective solution against a Werewolfs, and in the same...
Christmas is still far away, but Adata reveals already its gifts that carry Christmas warmth, or at least more GBs...
Super Talent Technology launches a special edition of its PICO-C USB flash drive, now with 64GB and with 24k gold...