Samsung introduced BD-C8000, the first portable 3D Blu-ray, which features 10.3-inch display, built-in Wi-Fi and HDMI and of course enables...
Toshiba today announced the libretto W100, the world's first dual touch-screen Windows mini-notebook PC. Intel powered, the mini notebook features...
If you're wandering, can I listen to music under the shower from my phone, the Japanese company Murata will make...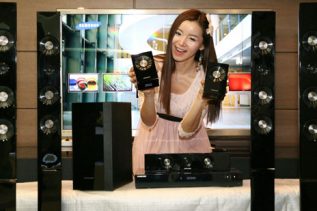 Samsung launches as they describes it "the world's first 3D Home Theater" –  HT-C6930W, "Samsung is the first company to...
Now you can take a picture of your girl friend in 3D,  just with your phone, cause Sharp has developed...
Sony Corporation ('Sony') today announced the development of millimeter-wave wireless intra-connection technology that realizes high speed wireless data transfer inside...
Tilera® Corporation today announced its new TILE-Gx™ family – four new processors from Tilera including the world's first 100-core processor:...