Epson Japan introduced today the so-called Moverio, which is a see-through 3D head-mounted display (HMD) and according to the company the first of its kind. The Moverio itself is a mix between NEC's transparent HMD Tele Scouter and Sony's cool 3D OLED head mounted display HMZ-T1.
Moverio users will experience what it is like to watch 3D (or 2D) pictures on a virtual 80-inch display that is 5m away – yet at the same time they will be able to see what's happening around them in the real world. In addition to the display, users get a small controller that offers 1GB of internal memory and a microSD card slot.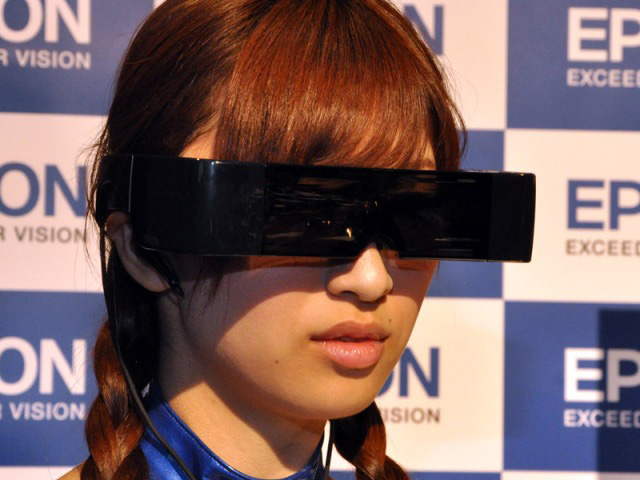 The Moverio comes with support for MPEG-4/MPEG-4 AVC/H.264 video files, including – side-by-side 3D images on its 0.52-inch displays with 960×540 resolution. The display can also work with AAC and MP3 audio files. In addition the device comes with Android 2.2, Wi-Fi IEEE 802.11b/g/n with direct access to YouTube, a web browser and a microUSB built into the device.
The headset is sized at 205×178×47mm and weighs 240g, while the controller measures 67×107×19mm and weighs 160g.
The novelty will cost 770 USD and will be available in Japan on November 25, 2011.
Source: Techcrunch