As Christmas gets nearer, we're continuing our current focus on smaller – and therefore more Christmas stocking-friendly! – TVs in the shape of LG's 26LG3000: a neat-looking little 26in set that follows on from Toshiba's recently reviewed 26AV505DB by sporting another marvellously affordable price tag.
| | |
| --- | --- |
| Author | John Archer |
| Published | 2nd Dec 2008 |
| Manufacturer | LG Electronics |
| Price | £256.07 (Exc VAT) |
| | |
| | |
| --- | --- |
| Design | |
| Features | |
| Image Quality | |
| Sound Quality | |
| Value | |
| Overall | |
Seriously, £300 and 88 pence really isn't a lot to ask for a 26in LCD TV – especially one as apparently well specified and nicely designed as the 26LG3000.
Regarding the design, it's surprisingly glamorous for such an apparently price-driven model, thanks to the way a dramatically narrow bezel is neatly finished in a piano black gloss finish.
Helping make this bezel possible is the set's use of LG's Invisible Speaker technology, which uses exciters in the bezel to produce sound rather than conventional speakers bolted onto a TV's edges.
Another nice touch about the design is the fact that it can be rotated on its smart little desktop stand – a touch of flexibility we really wouldn't have expected to find on such a cheap bit of kit.
Turning to the 26LG3000's connections, the news is probably best described as 'solid'. For while the inclusion of two HDMIs and a D-Sub PC port mean it pretty much gets the job done, it's hard to ignore the fact that bigger versions of the LG3000 range come with a third HDMI. What's more, unlike those of its bigger siblings, the HDMIs on the 26LG3000 aren't compatible with LG's SimpLink system, meaning you won't be able to enjoy enhanced two-way communication between the 26LG3000 and other HDMI-connected LG devices.
It turns out there are a few other features the 26LG3000 lacks that it bigger sisters and brothers don't, too. The first of these is LG's XD Engine processing, meaning the 26in model won't benefit from the engine's efforts at boosting contrast, detail, colour and motion.
The speakers hidden away in the 26LG3000's frame, meanwhile, are only a pair of one-way affairs rather than the four two-way speakers used from 32in upwards, while trying to set the TV up reveals that it also lacks the fancy, graphics-heavy Easy Menus System and tweak-filled Expert picture menu found on the bigger LG3000 models.
The drive to trim away features for the 26LG3000 presumably reflects the fact that it will generally be destined for second rather than main room use, and so needs to put hard price concerns ahead of tricks and options. But as we implied earlier in the review, it does seem up to speed in some specification areas. For its 15,000:1 claimed contrast ratio actually looks mighty high by 26in TV standards, and the 500cd/m2 brightness rating is also no slouch.
Not surprisingly the 15,000:1 contrast ratio figure isn't a native one, but rather one that's dependent on a dynamic backlight system that reduces the image's brightness when dark scenes are detected to reduce the appearance of greyness over dark areas. This isn't necessarily a problem, though, provided the backlight adjustment can respond quickly enough to the image content to avoid looking unstable.
For the most part, I'm not too alarmed by the corners LG has cut to keep the 26LG3000 as affordable as possible. The only one troubling me as I started watching the 26LG3000 was the lack of LG's XD Engine processing. And sadly my concerns prove well founded.
The first problem area to strike me is the set's colours. They're reasonably vibrant and dynamic, but basically they just don't seem to carry very natural tones. And we're not just talking about the odd orangey red or radioactive green here; almost the entire colour palette seems somehow a key or two off, to introduce an entirely unhelpful musical simile. Basically, it's as if the screen has been calibrated with PC-friendly colour temperatures more in mind than the D65 standard video devices generally aspire too.

Joining colours in distracting me from what I'm watching on the 26LG3000 is its fairly aggressive motion blur. The screen only claims a pretty uninspiring response time of 8ms, and this, without any 100Hz or other image processing to help things along, results in footie players looking blurred as they charge around the picture, or action-based film scenes looking indistinct and smeary.

The response time issues don't do action-based games like Gears of War 2 any favours either, especially if a lot of motion within the frame occurs at the same time that you decide to pan around your surroundings.
The fact that Gears of War 2 takes place predominantly underground and, um, inside a giant worm also ends up not doing the 26LG3000 any favours. For despite its high 15,000:1 contrast ratio claims, the 26LG3000 really struggles to render the darkness of the game's environments, leaving cavern walls and shadowy corners looking a distracting shade of blue or grey rather than black.

Needless to say this same problem materialises with many films – especially those with a horror theme. That unnerving impulse to scan dark corners for hidden killers or monsters just isn't as strong when the only thing you can make out is a vague grey mist. Though I guess this problem is actually quite nasty in its own none life-threatening kind of way!

You might be surprised to hear me say at this point that the triumvirate of problems just recorded don't completely kill off the 26LG3000. For it does have a couple of strengths up its sleeve that might just help it find an audience.
The most striking of these is the terrific sharpness with which it presents HD sources. This might sound vaguely ridiculous when you're talking about a TV that's just 26in from one corner to the other, but seriously, it really can show off the lovely impact of HD from a Blu-ray versus standard definition courtesy of the built-in Freeview tuner.

That said, the 26LG3000 is also a decent upscaler of standard definition sources, reproducing them on its HD Ready screen without significant noise and with no extra colour issues or softness. This is a particularly surprising result considering there's no XD Engine on board to help the process along, but there you go.

The 26LG3000's audio sadly returns us to the land of negativity. For without the two-way speakers of the bigger LG3000 models, the 26LG3000's audio sounds wimpy, lifeless and thinner than an haute couture model, meaning it can barely cope with a daytime TV chat show, never mind a bit of beach landing in Saving Private Ryan.

Verdict

LG's 26LG3000 does a clever job of standing out from crowded shelves of TVs with its pretty looks and puny price. But dig a little deeper and you'll discover that achieving that puny price has required LG to make more sacrifices and compromises than we're comfortable with.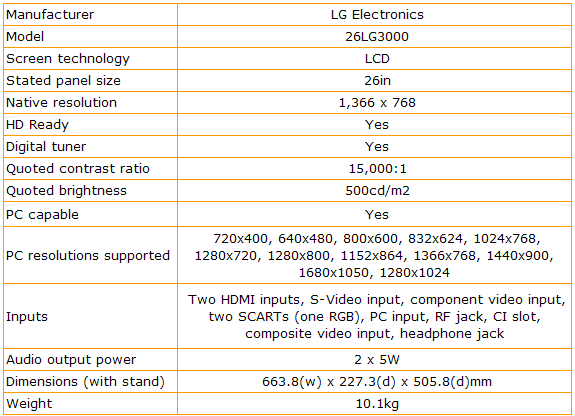 Source: TrustedReviews

LG 26LG3000