Casio showcased during InfoComm 2010 at Las Vegas Convention Center their world's first mercury-free, laser and LED Hybrid Light Source projectors. The new GREEN SLIM projectors eliminate the need for mercury bulbs with the production of a long-lasting light source.
Casio has created an original mercury-free hybrid light source capable of generating high brightness by combining a laser, a fluorescent element and an LED. Casio has achieved high output of green light, which has been considered difficult with conventional semiconductor light sources, by efficiently converting blue laser light into green light, using the fluorescent element. The high-brightness light of 2,000 or more lumens was then attained by projecting blue laser light, green light converted from blue laser light with the fluorescent element, and light emitted by a red LED through a DLP chip onto the screen.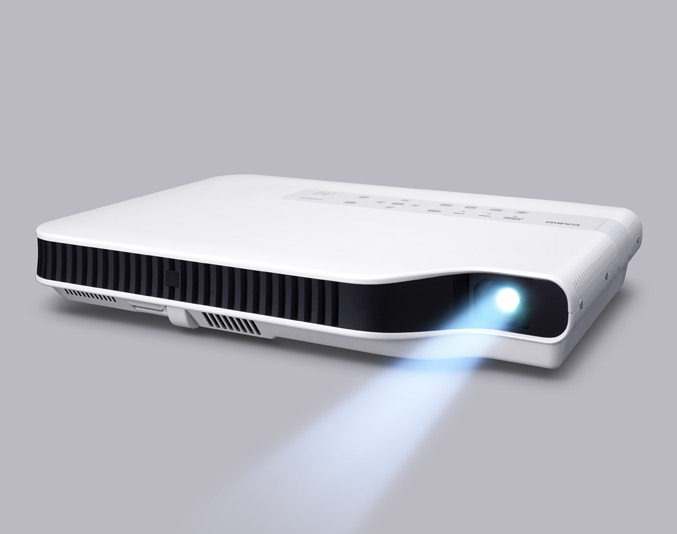 The world's first mercury-free high-brightness data projectors from Casio are not only eco-friendly and affordable, but also versatile as they can be used for many applications including digital signage, education, business and home entertainment. Casio also claims that the Green Slim's long-life Hybrid Light Source provides longer operation in digital signage applications compared to mercury lamp projectors and can be rotated 90 degrees for portrait display (when using WXGA format models). The projectors family, offering a 100" or greater projection, 20,000 hours without changing lamps with up to 2,500 lumens, in the same time they weights just  5 lbs  and are only 1.7" thin.

"Casio's eco-friendly GREEN SLIM projectors demonstrate the company's tradition of developing technologically advanced durable products that meet a variety of needs," said Frank Romeo, vice president of Casio's Business Projector Division. "The advances we have made to provide superior brightness and energy-saving features make it the perfect tool for a variety of applications."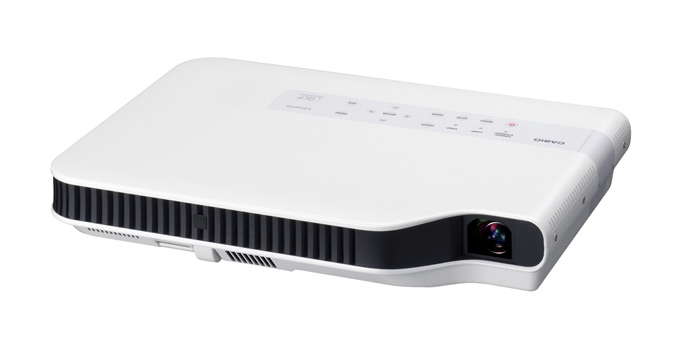 GREEN SLIM projectors are available in a diverse lineup, including several models with native WXGA resolution at 1280 x 800 pixels (16:10) and additional USB-enabled models that can project without a PC or communicate wirelessly with PCs. USB-enabled GREEN SLIM projectors, using an optional wireless adapter, can be wirelessly connected with up to 32 computers with up to four computers displayed simultaneously.
Main Features of Casio's GREEN SLIM Projectors
Laser & LED hybrid light source that enables mercury-free, high-brightness projection
High-brightness projection is achieved without using a high-pressure mercury lamp by using blue light emitted by a blue laser, green light converted from blue laser light with a fluorescent element, and light emitted by a high-lumen red LED through a DLP® chip onto the screen.
Wireless communication with PCs (XJ-A245U/A235U/A145U/A135U)
Using the optional (YW-3) adapter, these models can communicate wirelessly (IEEE 802.11b/g/n) with up to 32 Microsoft Windows® PCs (4 screens can be viewed simultaneously), enabling meetings in which multiple PCs are brought together and presentations can be conducted easily without connecting directly to the projector.
USB 2.0 host function enables presentations without a PC (XJ-A245U/A235U/A145U/A135U)
These models can project presentations, spreadsheets, word-processor documents, PDF files and other data** prepared on a PC, still images (JPEG/BMP), and moving images (AVI format: Motion JPEG) all without a PC using the included EZ ConverterFA software and commercially available USB memory.
Standard paper-size high-brightness projectors
High-brightness projection is achieved at 2,000 or more ANSI lumens with a laser & LED hybrid light source in a slim (1.7") and lightweight (5 lbs.) standard paper-size body. These projectors can be carried together with documents without being bulky and can project clear images even in brightly lit rooms.
Superior color reproducibility increases presentation impact
The laser & LED hybrid light source greatly improves color purity compared to high-pressure mercury lamps. It enables the production of beautifully vivid colors and projects clear, powerful images with visual effects of high color purity.
Longer-life light source
Use of the laser & LED hybrid light source increases the light source life to approximately 20,000 hours—nearly 10 times that of Casio's conventional products (XJ-S58, etc.) with a high-pressure mercury lamp—which means less maintenance and lower operating costs. Moreover, brightness deteriorates more slowly than with mercury lamps, so clear image quality can be maintained for a long time.
Quick powering on and off, an advantage for smooth presentations
Projection at maximum brightness is possible in a minimum of eight seconds, and no cool down is needed when turning the projectors off. Thus, limited presentation time can be utilized effectively by enabling a smooth presentation flow from set-up to clean-up.
Wide-angle 2X optical zoom gives users freedom of projector setup
These models come with a wide-angle 2X zoom lens (lens with a two times shorter focal distance) that provides the greatest magnification* of any data projector. The GREEN SLIM Projectors also have an auto keystone feature that automatically corrects vertical distortion of the display due to projector position, enabling effective use in diverse settings ranging from small meeting spaces to large conference rooms and classrooms.
HDMI terminal
All models are equipped with an HDMI terminal that can transmit digital audio/video with only one cable. It enables AV devices and PCs also equipped with an HDMI terminal to be easily connected to the projectors, which can then project the contents with no loss of quality.
WXGA Native Resolution (XJ-A245U/A240/A235U/A230)
WXGA (1280 x 800) resolution allows display of wide format content in its native format.
Ceiling mount is possible using commercially available hardware and brackets sold separately.
The full lineup of GREEN SLIM projectors:
Model

Display resolution

Brightness

USB Host Function &
802.11b/g/n wireless capability*

XJ-A245U

WXGA
(1,280×800)

2500 ANSI lumens

XJ-A245U only

XJ-A240

XJ-A235U

2000 ANSI lumens

XJ-A235U only

XJ-A230

XJ-A145U

XGA
(1,024×768)

2500 ANSI lumens

XJ-A145U only

XJ-A140

XJ-A135U

2000 ANSI lumens

XJ-A135U only

XJ-A130

* optional wireless adapter required
Source: Casio