SANYO, one of the world's largest manufacturers of LCD and DLP projectors adds the low-cost PLC-WXE45 to their broad line-up of LCD projectors. Key features of the value-priced projector include a short focal length lens, full WXGA resolution, networking capability, blackboard and color board modes, security features, closed captioning, and a clever space saving design.
The PLC-WXE45 is outfitted with a short focal length lens that allows it to project a full 80-inch image from a distance of only 34-inches. Combined with the unit's small dimensions, the short throw lens allows both educators and business professionals to use the projector in virtually any location, especially small venues like conference and classrooms. It's now possible to move the projector from the center of the room and place it closer to the screen, freeing up seating space and preventing the audience from interfering with the projected image.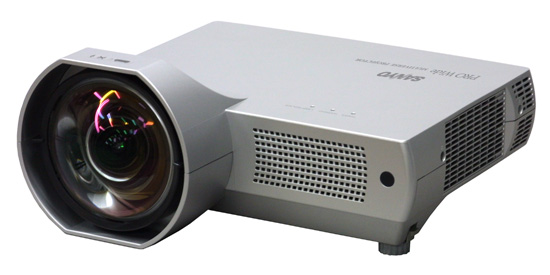 The projector can be used in a variety of applications, providing full 1280 x 800 (16:10) resolution. It is capable of projecting high definition images from cable/satellite or DVD sources and can also deliver a computer presentation from Macs or PCs.
Equipped with SANYO's exclusive PJ Network Interface, the PLC-WXE45 can be integrated into a wired network, which makes it possible for the projector's functions and operation to be monitored from a long distance or within a web browser. Emails can be sent automatically to report current operating status.
"The lightweight PLC-WXE45 is a highly versatile solution for most educational applications due to the projector's ultra short throw lens, wide aspect ratio and its networking capabilities," says Mark Holt, Vice President and General Manager for SANYO's Presentation Technologies Division.
Many classrooms, business offices, and other venues don't have a projection screen. But given a blackboard or color board the PLC-WXE45 can still project acceptable images directly onto these surfaces. SANYO's Color Board Mode allows adjustment of the hue on a colored (non-white) surface so that it appears to be projected on a white surface. The Black Board Mode enables educational institutions to use the projector with all standardized educational boards.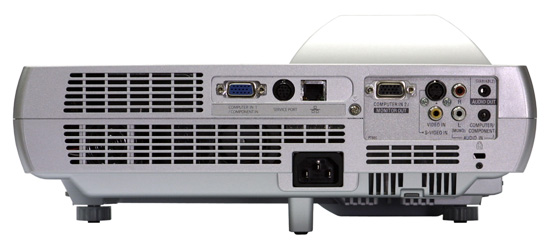 The projector's power turns on as soon as the power cord is connected. There is no need to press any buttons on the remote control or the projector. Moreover, there is no need to wait for the bulb to cool down after a presentation. The power cord can be disconnected immediately after turning off the projector. This makes it possible to set up and move through a presentation quickly or on the fly and saves energy too!
The PLC-WXE45 is equipped with several security features. To minimize the risk of theft, it cannot be operated without the supplied remote control plus a PIN code lock prevents use of the projector by unauthorized users. The projector is also outfitted with an anti-theft alarm that emits a loud sound whenever a sizable vibration, which could be someone trying to move the projector, is detected.
For deaf and hearing-impaired individuals, the PLC-WXE45 provides closed captioning, which displays the audio portion of a TV signal as printed words on the projected screen.
Specifications
Native resolution: 1280 x 800 (WXGA)
Aspect ratio: 16:10
Contrast Ratio: 500:1
Brightness: 2000 Lumens
Screen Size: Minimum 50″, maximum 100″
Uniformity: 80%
Projection Lamp: 200W UHP
Video inputs: Mini D-sub 15 (RGB or Component on break out cable), S-video, composite
Monitor out: D-Sub 15
Service Port: Mini DIN 8-pin
Communications: RJ45
The PLC-WXE45 will be available now and has suggested retail price of $1,795.00.
Source: Sanyo