Sanyo announced  the PLC-WL2503,  a wide XGA ultra short-throw 3 LCD interactive projector which promises full functionality regardless of the surface on which the image is projected.
Sanyo's  PLC-WL2503 model offers XGA 1280 x 800 (16:10) resolution, 2500 lumens brightness, a 500:1 contrast ratio and can project HD images images from 60 to 110 inches at a distance of no more than 47 inches from the screen. It is equipped with an interactive function and built in sensor that eliminates the  need of an interactive whiteboard connected to the PC, by providing two interface devices (a pen and a pointer), each containing an infrared (IR) transmitter.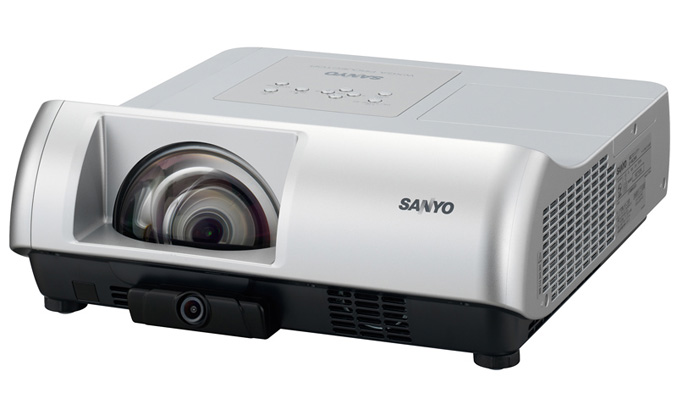 The projector utilizes camera module located on the front surface of the projector to detects the IR signals and to determine the relative location of the tip on the projected image, and this information is transmitted to the PC through a USB connection for display on screen. It includes SANYO's PJ Network interface for monitoring of the projector functions and operation from long distance via a web browser, as well RS-232C , HDMI 1.3, dual D-sub 15 connectors and S-Video and RCA composite inputs, plus stereo pair of RCA connectors and a stereo mini jack. There're also a build in 10W speaker and comes with I/R Remote.  The PLC-WL2503 can operate up to 4,000 hours before requiring a lamp or filter replacement and when this is necessary, it provides easy access through a top panel door. It is available this month with MSRP of $1695.99.