ViewSonic today unveils two new pocked-sized consumers devices – the 3DV5 3D HD Camcorder and DVP5 pocket camcorder projector.
The 3D HD Camcorder 3DV5 packs two 5 megapixel sensors, allowing you to capture standard 2D, as well 3D videos at 1280 x 720 and 3D still images. It has 2.4-inch 3D LCD, which lets you view your 3D videos or photos without the use of 3D glasses and of course you can also enjoy tour captured 3D content on 3D HDTVs using 3D shutter glasses. The camera has 10MB internal memory, SD/SDHC card slot, Li-ion rechargeable battery and comes with built-in software, designed for easy uploading and sharing of videos on YouTube 3D and Facebook. The 3DV5 Pocket 3D HD Camcorder is now available for an ESP of $179.99.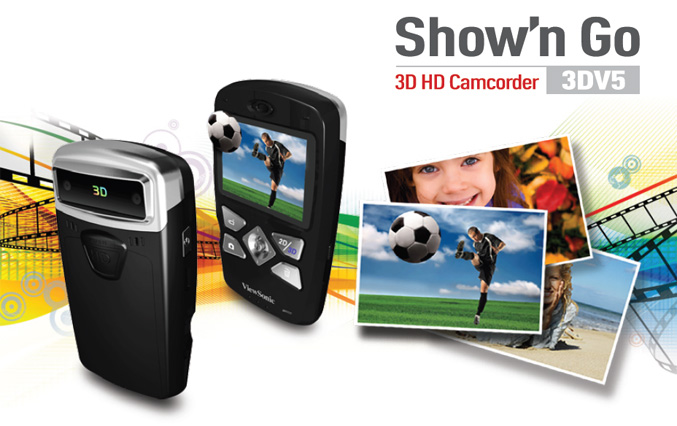 The other propose from ViewSonic is the DVP5 Pocket Camcorder Projector capable to shoots and projects photos and HD videos instantly on any surface. It packs 5 megapixel sensor too,  which allows you to take 720p HD videos and 5-megapixel photos. The build in projector utilizes LED backlight lamp technology with 200:1 contrast ratio, 15 Lumens of brightness and ViewSonic claims that has more than 20,000 hours lifetime. It is capable to project content from 6″ up to 65″ image size with 640 x 480 resolution from its build in 32MB build-in memory, Micro SD card slot or from from external devices using an AV jack, such as an iPod, iPhone, mobile phone, DVD player, camcorder, notebook/PC or game console. It also include Mini HDMI, Audio, USB ports and a 2100mAH Li-ion rechargeable battery, which offers up to two hours of recording time. The DVP5 has dimensions of 130mm x 62mm x 24mm, weights only0.44 lb and is now available for an ESP of $329.99.