Samsung Electronics America, a subsidiary of Samsung Electronics Corporation, announced the release of its family of data projector products. The P Series (Portable), L Series (LCD), D Series (Data), and A Series (A/V) are a combination of technical innovations that enhances the brightness, color, and accuracy of the projected picture while providing the functionality needed for academic, corporate, professional or home use.
The entire line of projectors strives to have the best Front of Screen performance in alignment with our TV, Pro Display and Monitor products.
"Samsung's Data Projectors focus on what customers are looking for – accurate Front of Screen performance, unique contemporary designs, almost silent operation, and connection flexibility," said Mr. JH Kim, President, Information Technology Division, Samsung Electronics America Inc. "Our new line of Data Projectors complements our award winning Desktop Displays and powerful Large Format Displays, rounding out our full line of IT visual display offerings."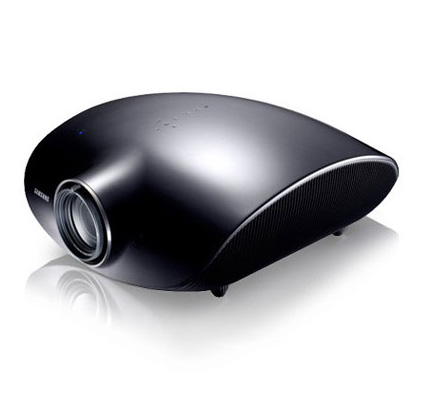 The Samsung family of Data Projectors is ideal for those searching for high performance in color and brightness with low operating noise. For impromptu presentations or mobile applications, the compact design of the P Series (P400) makes the ultraportable projector lightweight, less than 2 pounds, with best-in-class brightness, 150 ANSI lumens, from an LED light source, and standardized audio/video connections.
For educational use or corporate environments, such as classrooms and conference rooms, the Samsung L Series (L220 & L300) are complete stand alone multimedia projectors capable of providing sharp color-rich images and sound from any AV or PC source, including HDMI (L300 only). While the L Series' 3 Chip technology enhances picture quality through realistic color reproduction, its built-in speakers offers stereo sound output to run media-rich video applications without additional audio support.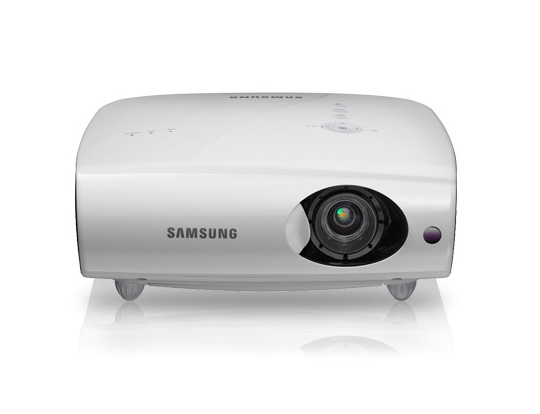 For larger venues, such as auditoriums and lecture halls, the D series (D300 & D400) uses DLP technology to offer higher brightness in dark or lighted conditions and versatile connectivity, including HDMI.
For the home theater enthusiast or professional who demands the highest quality picture, the A Series (A400, A800 & A900) offers a full movie experience. The A Series creates a vibrant picture with wide-screen resolution, an expanded color palette, and increased color brightness by 50%. The A800 and A900, known as the "Joe Kane Signature Series", utilizes the Digital Light Processing (DLP) optical engine to offer 1080p Full HD resolution enabling viewers to watch movies as the director intended. Joe Kane is a veteran of the home theater industry and recognized as one of this country's leading HD experts.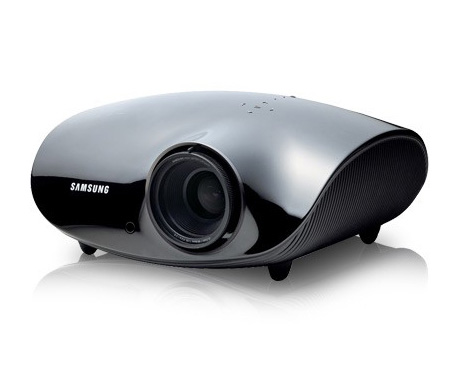 "We've taken our expertise in displays and technology offering to give our projectors excellent picture quality. Every aspect of the projector, from the exterior to the AV inputs and sound system, was designed to maximize the viewing experience," said Tom Grau, Sr. Product Marketing Manager, Projectors at Samsung Electronics' Information Technology Division. "As we expand our line of Data Projectors, we are launching a family of strategic offerings for growing market segments that leverage our brand's heritage for superior display performance."
Samsung's picture quality and brightness is a direct result of significant R&D invested to produce projectors based on either DLP® (Digital Light Processing) or 3LCD optical engines, which provide a higher quality picture and richer colors for displaying presentations, pictures and video in their natural colors. With brightness levels up to 4000 lumens, the projectors can be use in either a dark classroom or well-lit auditorium. The L-series projectors' shorter throw enables it to be placed in the center of a classroom or training room and provide the display and audio performance for the entire audience to experience. The solid construction of the L Series, D Series and A Series allows them to run quietly at a range of 26 to 32 dB.
| | | |
| --- | --- | --- |
| Mode | | Key Product Attributes |
| P400 | | DLP optical engine, Ultra portability, LED light source, 30,000 Hours life, Standard VGA-in (15-pin D-sub), RCA Composite Video in, built-in speakers, tri-pod screw for mounting |
| L300, L220 | | 3LCD color processing, 3,000 & 2,200 Lumens, built-in stereo speakers, Standard VGA, Composite video in, HDMI Input (L300 only), VGA PC Loop-out, RS-232C Serial control |
| D300, D400 | | DLP optical engine, 3,000 & 4,000 Lumens, 3,000:1 contrast ratio, unique cabinet design, Standard HDMI, VGA, Component and Composite video in, VGA PC Loop-out, RS-232C Serial control |
| A400, A800 (Dark Chip 2) A900 (Dark Chip 4) | | DLP optical engine, 2,500:1/10,000:1/12,000:1 (A400/A800/A900) contrast ratio, color accuracy, (2) HDMI, VGA, (2) Component, S-video, and Composite video in, VGA PC Loop-out, RS-232C Serial control |
All Data Projectors are available through Samsung resellers and distribution channels, which can be located by calling 1-800-SAMSUNG or by visiting www.samsung.com. Samsung Power Partners receive special promotions, lead referrals, training and technical support, as well as collateral and marketing materials. To find out more about becoming a Samsung Power Partner, visit www.samsungpartner.com.
Source: Samsung