Continuing to lead the revolution in face-to-face online video communication, Skype today announced support for Skype™ video calls on PCs in 720p high definition (HD), as well as Skype software embedded into Internet-connected widescreen televisions from its consumer electronics manufacturer partners.
High Definition Skype Video Calling
The latest version of Skype for Windows can deliver up to 720p HD-quality video calling at 1280 x 720 resolution, at up to 30 frames per second, giving individuals an even smoother and richer video calling experience. To make an HD video call, users will need a high-speed broadband connection, a new HD webcam, a PC with a 1.8 GHz dual-core processor and Skype 4.2 Beta for Windows.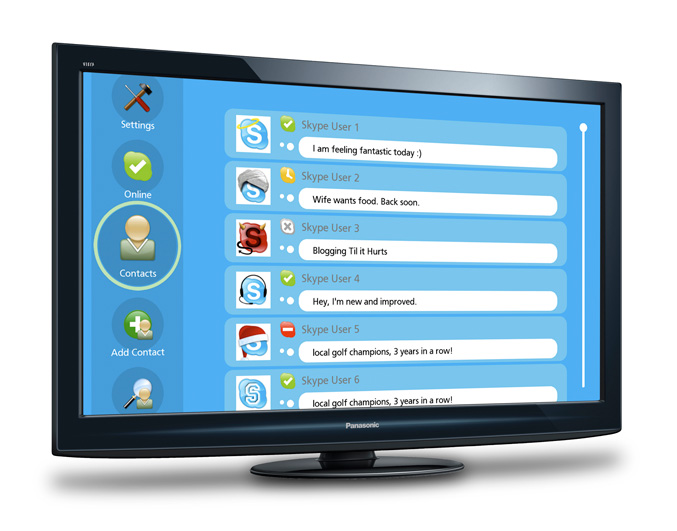 "With HD-quality Skype video calls, we can bring our users even closer to the ones they love through an even richer, more meaningful video calling experience," said Josh Silverman, CEO of Skype. "Imagine being able to see the sparkle of your grandchild's eyes or the setting of your best friend's engagement ring. Through the innovation of Skype's engineers and our hardware partners, these scenarios are now possible without having to buy expensive equipment or software."
New HD webcams are due to arrive in early 2010. At CES, faceVsion and In Store Solutions introduced new HD webcams that are optimized to work with Skype. In order to make HD video calling available to as many people as possible, the new Skype Certified™ HD webcams handle the video encoding and processing onboard, removing the need for a high-performance computer to encode the HD video.
faceVsion developed the FV TouchCam N1, an HD encoding webcam optimized for Skype video calling. Two versions of the faceVsion webcam will ship, beginning in February 2010: one with a microphone ($99) and one without ($69). In Store Solutions introduced two new HD encoding webcams, the FREETALK® HD PRO ($120) and FREETALK® HD PRO PLUS ($140), which will be available in March 2010. Both the faceVsion and FREETALK webcams will be available for purchase online via the Skype Shop.
Skype-enabled Televisions
Skype is already renowned for popularizing video calling and bringing people closer together through rich, real-time communication. With Skype embedded into Internet-connected HDTVs, the company is creating a new experience that will allow people to communicate from the comfort of their living rooms.
The new HDTVs will deliver familiar Skype features including:
Free Skype-to-Skype voice and video calls
Calls to landline or mobile phones at Skype's low rates
The option to receive inbound calls via a user's online Skype number
Skype voicemail, if it is set up
Being invited to participate in voice conference calls with up to 24 other parties
Support for up to 720p HD video calls, depending on the availability of high-speed broadband and a HD webcam
At CES, Skype announced partnerships with LG and Panasonic to offer Skype–enabled HDTVs. Skype software will be embedded into Panasonic's line of 2010 VIERA CAST-enabled HDTVs and LG's 26 new LCD and plasma HDTVs with NetCast Entertainment Access™. Both lines are expected to be available in mid-2010. Both LG and Panasonic will offer specially-designed HD webcams that are optimized for Skype video calls as separate accessories that can be plugged into the televisions. These webcams support 720p HD and include special microphones and optics that can pick up sound and video from a couch-distance.
"The popularity of Skype video calling has increased substantially in recent years with an average of 34% of Skype-to-Skype calls now including video," added Silverman. "For many people who are video calling on Skype, they have expressed a desire to communicate with their friends and family from somewhere comfortable, and preferably on a big screen. Logically, this led to the development of Skype embedded on HDTVs."
Skype recommends uninterrupted high-speed broadband of at least 1 Mbps symmetrical bandwidth to achieve 720p HD-quality video calls on either a PC or television.
Source: Skype