iKey, a company known for its rugged keyboards, pointing devices and displays for military applications, has introduced the new SLK-880-FSR-USB-H, which has been specifically enhanced for challenging environments.
The new SLK-880-FSR-USB-H keyboard offers everything that iKey customers have become accustomed to but also includes a USB hub. The hub is directly integrated in the case and makes the keyboard an ideal solution for military applications where outlets and space are at a premium.
The iKey SLK-880-FSR-USB-H keyboard truly features some impressive specs and capabilities. First, the keyboard offers night vision and this is why it features adjustable LED green backlighting with two brightness control keys. In addition an integrated Black Out key allows users to quickly turn off all LEDs and retain the same brightness settings when turned back on.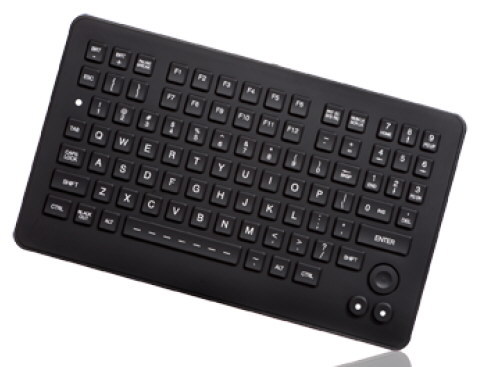 Durability is another great feature of the SLK-880-FSR-USB-H. Engineered to sustain shocks of any kind the SLK-880-FSR-USB-H keyboard meets or exceeds MIL-STD-461 specifications and NEMA 4x requirements. The keyboard passes tests such as being dropped on concrete from 2 meters and the cable strain relief exceeded 25-pound pull limits.
"Built to perform through shock, vibration and humidity, the SLK-880-FSR-USB-H comes in a conductive plastic case designed for enhanced electro magnetic interference (EMI) performance," said Jim Mayo, controller at iKey. "The durability and features packed into this compact design provide our clients with a top performing, keyboard like no other."
The integrated Force Sensing Resistor is the third remarkable feature. The FSR uses far less mechanics than most other pointing devices and this is why the FSR's only moving part is the silicone rubber pad, which includes a left- and right-click button.
Measuring 6.84×11.45×1.15 (w-h-d) inches the SLK-880-FSR-USB-H comes with a USB cable and also features a 10-key number pad. The new keyboard will be featured at DefExpo 2012, held between March 29 and April 1 in Pragati Maidan, New Delhi, India. Commercial availability is expected later this year.

Source: PRWeb