TRENDnet has released a new convenient solution for your home that brings the highest wireless connection speeds available to your media devices and connects them to the Internet over high speed 450Mbps wireless connection.
TRENDnet's new TEW-680MB Wireless N HD Media Bridge can connect up to four media center devices such as gaming consoles, media players,  Internet televisions, and NVRs, and is able to connect to both 2.4GHz and 5GHz networks. It supports one-touch button connection Wi-Fi Protected Setup (WPS), WMM Quality of Service (QoS) technology that prioritizes gaming, Internet calls, and video streams, and has integrated Advanced Multiple Input Multiple Output (MIMO) antenna technology for improved communication performance.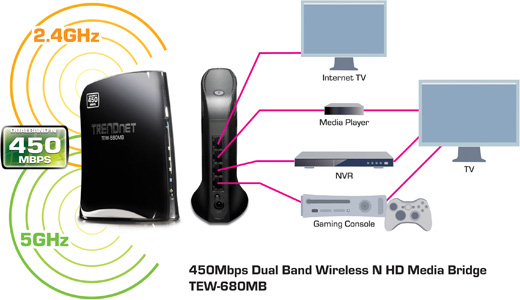 The TEW-680MB 450Mbps Dual Band Wireless N HD Media Bridge comes with a three year warranty and is currently available for $169.99.