A-DATA Technology Co., Ltd., the worldwide leader in DRAM memory and Flash application products, announced the shipment of NH01, the first 2.5-inch portable hard drive equipped with the latest USB 3.0 interface, following its debut at CES back in January. Adopting the new generation of USB 3.0 interface, the A-DATA NH01 is designed to deliver astounding data transfer rates up to 88 MB/s in read and 81 MB/s in write overall, which are proven to be three times faster than the conventional hard drives with USB 2.0 interface based on real-world test results.
The transfer speed has become increasingly critical for external storage devices in order to cope with the nowadays' richer and larger-sized multimedia content. Combining the next-generation interface, users of NH01 are able to enjoy the benefits of SuperSpeed USB 3.0 and save up to 70% on file transfer time compared to the preceding USB 2.0. With the A-DATA NH01, transferring a typical 24GB Blu-ray movie would take just 4.6 minutes as opposed to 14.6 minutes via a conventional USB 2.0 interface, significantly boosting users' efficiency with no more time wasted on waiting. Other than its superior transfer speed, USB 3.0 also provides improved interaction between device and host computer to deliver enhanced energy efficiency compared to its predecessor.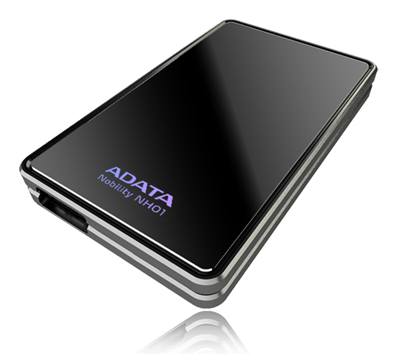 With various capacities up to 640GB, NH01 offers high-capacity storage solution suitable for system backup or carrying massive data on the go. Along with its outstanding performance, NH01 is elegant and stylish with a glossy front panel and coating around the enclosure. It is also compactly designed to fit right in the pocket. NH01 supports the easy plug-and-play on compatible platforms and is also backward compatible with USB 2.0 at a lower speed. Users of A-DATA portable HDDs are able to download value-add software HDDtoGO, OStoGO (no registration required), Norton Internet Security 2010 (60-day trial) for free and experience enhanced mobility and security with just few mouse clicks away. All A-DATA portable HDDs are backed by 3-year product warranty.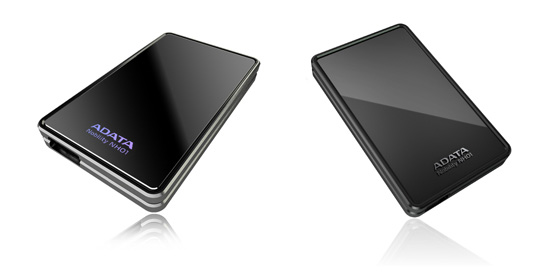 Estimates are based on an average transfer rate of 88MB/s on systems with built-in USB 3.0 function motherboards and 28MB/s via USB 2.0 interface for illustration purposes; results may vary with different platforms and software used.
Features:
Ultra-fast read/write performance via SuperSpeed USB3.0 interface: up to 88/81 MB/s
Compact design with only 15.7mm thin for easy portability
Elegantly and stylish enclosure with a glossy front panel
Device Interface: USB 3.0
Backward compatible with USB 2.0 at lower speed
HDD interface: 2.5" SATA 5400rpm
Capacity: 320/500/640GB
Dimensions: 134.0×82.0x15.7 mm (LxWxH)
Accessory: USB 3.0 cable
Weight: 240g
Source: A-DATA