DFI today announces a new fanless Mini-ITX motherboard – NP100-N16C. This motherboard utilizes the 45nm 1.6GHz core speed Intel® Atom™ N270 processor (533MHz FSB) with Intel® 945GSE Express chipset and ICH7M I/O controller hub. Exhibiting a processor thermal design power (TDP) of 2.5 Watts, this value-optimized platform provides higher performance-per-watt than previous Intel x86 mobile platforms.
In addition to higher performance-per-watt, this new Intel® Atom™ based platform provides better graphics media support than competing low-power processors. Software compatibility with previous 32-bit Intel® architecture products makes this value-optimized platform a cost-effective, high-performance computing solution for portable and low-power embedded applications.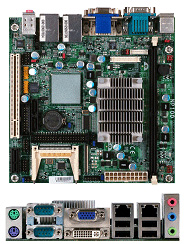 In addition, this motherboard utilizes one 240-pin DDR2 DIMM socket supporting up to 2GB of economical DDR2 400 or 533 MHz memory. Other significant NP100-N16C features include an 18-bit dual-channel LVDS display interface, VGA graphics interface, and DVI display interface. Also provided are 1 CompactFlash socket, 2 SATA ports, 8 USB 2.0 ports, 4 Serial COM ports, 2 PCI Express Gigabit LAN controllers, 1 PCI Express x1 slot, and 1 PCI slot. A Realtek ALC262 2-channel High Definition Audio (HDA) CODEC with S/PDIF I/O.
The NP100-N16C Mini-ITX product is ideal for cost-sensitive applied computing and x86 embedded systems applications including medical electronics, industrial control, security & surveillance, telecommunications, ATM/POS, digital signage, gaming and kiosk systems. It also has guaranteed availability for seven years to continually save customers the time and expense associated with additional product testing and verification processes.
NP100-N16C Features:
Mini-ITX form factor
Intel® AtomTM N270 processor with HTT
Intel® 945GSE Express chipset with ICH7M I/O controller hub
Up to 2GB of 1 DDR2 400/533MHz memory
Integrated Intel® Graphics Media Accelerator (GMA) 950
2 PCI Express Gigabit Ethernet LAN controllers
1 VGA display port
1 LVDS display interface
1 DVI-I port (DVI-D signal only)
1 IDE Ultra ATA/100 interface (Supports 2 devices)
1 PCI Express x 1 slot
1 PCI slot
8 USB ports
4 Serial COM ports
2 SATA ports
1 CompactFlash memory socket
Integrated HD Audio with S/PDIF Input/Output
Floppy Disk Controller option available on special order
Product link:
http://tw.dfi-acp.com/Product/xx_product_spec_details_r_acp_us.jsp?PRODUCT_ID=6520&C
Source: DFI