Scientists at the University of Illinois in the United States have created a new technology that allows delicate integrated circuits to "heal" themselves without human intervention.
The new technology is still at prototype stage but holds promise for the future. This technological breakthrough allows electronic circuits to restore their wiring when it is broken, apparently within microseconds, which is fast enough to allow operation to continue without interruption.
The "healing" technology is rather simple though – the engineers and scientists at the university place extremely small (10 micron) microcapsules along the length of a circuit. The microcapsules contain liquid metal – an alloy of gallium and indium – and if the circuit cracks the microcapsules also crack. The liquid metal fills the crack and restores conductivity and operation continues as normal.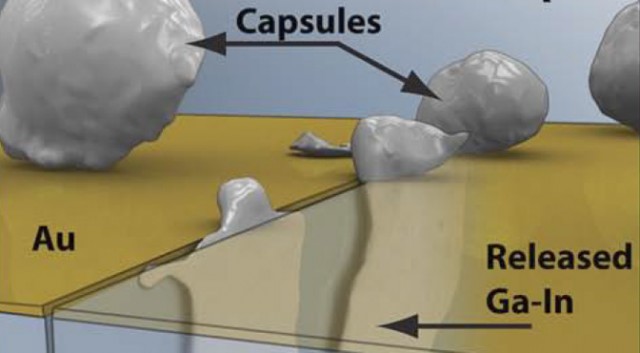 The technology works for even more complex circuit boards such as the ones found in computers and mobile devices. Its application is expected to be in everyday usage – for mobile phones, laptops, smartphones etc., and in the space and military industries.
Unfortunately as everything in life the new invention has drawbacks. The microcapsules break only in 90% of all cases that require their help, and if they do break conductivity is restored in 99% of the cases. Also the durability and strength of the new alloy is still unknown. And finally once broken the microcapsules cannot be used again and new ones cannot be added to the circuit board. Still, being a new technology it is almost sure that with time it will be significantly improved.
Source: Extremetech