OCZ Technology Group, a worldwide leader in innovative, ultra-high performance and high reliability memory and PC components, today unveiled the Pro-Source 1500, the first Uninterruptible Power Supply (UPS) from PC Power & Cooling. Built for absolute stability and reliability from one of the most trusted names in power supplies, the Pro-Source 1500 UPS is the cost effective power protection solution for today's high-end enthusiast and mission-critical systems.

Designed by PC Power & Cooling to be fully compatible with all PC Power and OCZ brand PSUs, the Pro-Source 1500 UPS is your ultimate source of back-up power. The Pro-Source provides a pure sine wave output, versus the conventional square wave or "step" sine wave produced by lesser quality UPS units. A pure sine wave is essential to a professional-grade back-up power source, while an inferior "step" sine wave plays havoc with today's sophisticated and sensitive power factor correction (PFC) circuitry, making it possible for your PSU to reject the back-up power source and shut down. A professional UPS should output the same quality of power that your utility line delivers, and the Pro-Source 1500 does just that, providing a clean, pure sine wave to effectively power your high-performance PSU during a utility failure.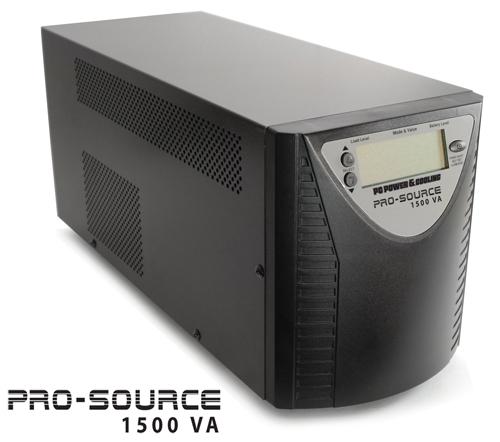 "PC Power & Cooling has a long history of delivering premium power management solutions to enthusiast and commercial customers, and the Pro-Source continues that tradition by addressing customers needs for superior UPS," commented Ryan Edwards, Director of Product Management for the Group. "The Pro-Source protects your investment by delivering a pure sine wave output for uninterrupted power to even the most demanding pc configurations in the event of an extended power disruption."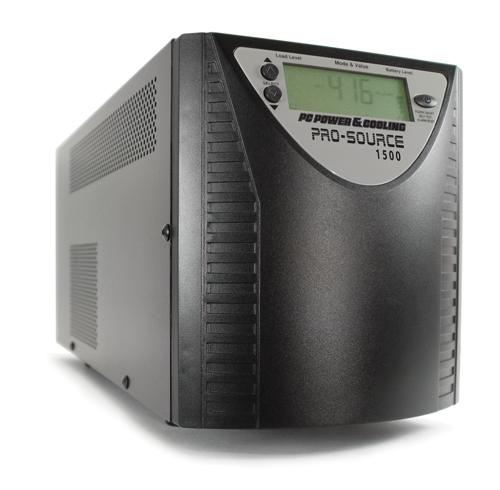 The Pro-Source 1500 features ten minutes of back-up battery time at typical load (600W), and with 1500VA (1440VA with standard plug) and 900W it is powerful enough to provide back-up power to some of the most demanding of PC configurations. The software and the front panel both show Input Voltage, Output Voltage, Frequency, Load, Backup Time, and Temperature. The Pro-Source 1500 is compatible with all major operating systems including Windows XP/Vista, Netware, and Linux, and can send alerts to a computer through a USB cable and can be monitored remotely via email or pager alerts. When the UPS is running on utility power it is 97% efficient and there is an overload alarm to warn the user if the load is too much for the UPS to handle. The Pro-Source 1500 UPS uses three standard 12V, 7Ah rechargeable lead acid batteries that are easy to replace, and comes with an easy to follow instruction booklet and management software.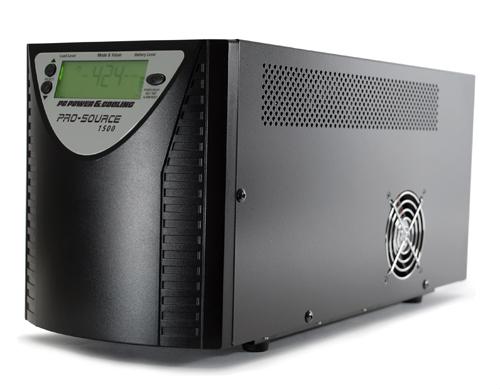 With a history of almost 25 years building long-lasting, investment-grade PSUs, PC Power built the Pro-Source 1500 using the highest quality components and circuitry to provide the highest MTBF rating on the market. Delivering continuous power to your high-end PSU, the Pro-Source offers one the industry's most powerful yet affordable high-end UPS on the market, at a price point 40% less than a comparable unit in its class. The Pro-Source 1500 is backed by a 3-Year warranty commitment and the in-depth knowledge of PC Power & Cooling's technical support.

Designed for high performance, enthusiast, and mission-critical systems, the PC Power & Cooling Pro-Source 1500 is the first pure sine wave, high output UPS retailing under $300.
For more information on the PC Power & Cooling Pro-Source 1500 UPS please visit our product page.
Source: OCZ Technology