Patriot Memory, a global pioneer in high-performance memory, NAND flash, storage and enthusiast computer products, expanded their lineup of DDR3 memory solutions with the launch of its new ultra-high performance Viper II Series Sector 5 Edition Extreme Performance DDR3 memory for Intel® P55 platforms.
Patriot Viper II Series Sector 5 Edition modules pass a thorough qualification and screening process on multiple high-performance motherboards using the Intel® P55 chipset platforms and Intel® Core™ i7 CPUs to ensure performance at 2500MHz with latency timings of 9-11-9-27. These modules are targeted and designed specifically for performance enthusiasts and overclockers looking to set new benchmark records and push the boundaries of computing performance.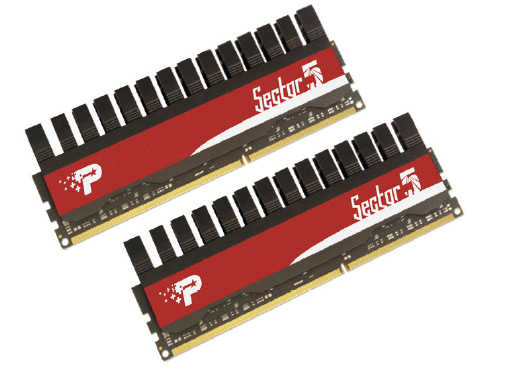 "Patriot has been delivering some of the fastest overclocking memory in the world, and our latest solution takes the crown as 'World's Fastest Memory,'" says Les Henry, Patriot's VP of Engineering. "Our in-house engineering expertise and knowledge of the enthusiast market has helped us push the boundaries and set the standard for DDR3 memory speeds. With Viper II Series Sector 5 Edition 2500MHz modules we are showcasing our expertise and deep understanding of the enthusiast market to push the boundaries and achieve new speeds and performance capabilities with DDR3 memory."
Patriot Viper II Series Sector 5 Edition module kits are geared as the ultimate upgrade for overclockers and enthusiasts looking to reach new heights in overclocking and benchmarking. Each module is individually hand tested and qualified in the Patriot lab at our headquarters in Fremont, CA. The Viper II Series Sector 5 Edition 2500MHz modules are specifically designed for Intel P55 platforms paired with Intel® Core™ i7 CPUs. Built with an extruded aircraft-grade aluminum heat spreader, Sector 5 2500MHz modules quickly dissipate heat from the memory ICs resulting in improved stability and reliability during extreme overclocking conditions. These modules will be offered as a 4GB kit (2 x 2GB modules) under the part number PVV34G2500C9K. In addition to the worlds fastest DDR3, Patriot is releasing two new module kits at 2400MHz and 2133MHz with timings of 9-11-9-27 and 9-9-9-27 respectively. Part numbers are: PVV34G2400C9K and PVV34G2133C9K.
Source: Patriot