The not so popular AIO Group company has demonstrated a new and innovative mATX case that features built-in RAID.
The new offering is not necessarily unique but features a technology that has been around for years, so it is really puzzling why nobody thought of it before that. Still, according to information from AIO Group the new case has its roots in a now defunct case maker and the product in question is its Myriad chassis.
Despite its microATX status, the Myriad is not to be underestimated as it comes with no less than seven hot-swappable hard drive bays behind a heavy door. What's now surprising and unique is that five of them are connected to a port multiplier, which allows for the creation of a soft RAID without the need of a RAID controller in the system, as all five drives are connected to a single SATA connector on the motherboard. The port multiplier allows for RAID 0, 1, 3, 5 and 10.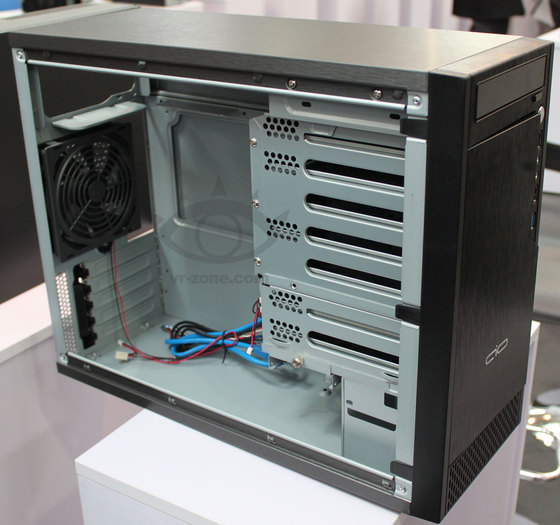 The new computer case also features a single 5.25-inch drive bay, another internal 3.5-inch bay and a 2.5-inch bay, as well as a USB 3.0 port, two USB 2.0 ports and a pair of audio jacks on the front, all accessible without having to open the door.
In addition the Myriad case also comes with space for five expansion cards with plastic retention clips and a pre-fitted 120 mm fan. AIO claims that the Myriad can handle four 350 mm add-in cards, albeit these would only be single slot cards of course.
Unfortunately, this rather distinctive and useful case is available in Europe only for the time being. Pricing is unknown.
(picture courtesy of VR-Zone)
Source: VR-Zone