LANParty – Equipped with Industrial grade technology, DFI LANParty motherboard is always the best choice of enthusiasts in terms of performance and quality. This time, DK P55-T3eH9 does not only deliver brilliant performance, but also includes several exclusive and advanced technologies to satisfy user's needs. Accommodating Intel newest single chipset, P55, DK P55-T3eH9 comes with processor socket of LGA 1156. It also supports dual channel DDR3-1333 express memory. As for its unique features, DK P55-T3eH9 is provided with exclusive "ABS II" CPU auto upgrade technology, pioneering digital PWM of high power efficiency , as well as superior extreme cooler design. What is more, DK P55-T3eH9 adopts Creative X-Fi extreme fidelity technology and BIOSecure technology, providing marvelous audio and 100 % recovery of BIOS crash.
Via exclusive "ABS II" CPU auto upgrade technology, DK P55-T3eH9 can save around 35% budget for high degree CPU, when still rendering the same high performance. Without complicated set-up steps, CPU performance can be improved automatically as system is turned on. In addition, with the pioneering digital PWM, the power efficiency of DK P55-T3eH9 is much higher than traditional one's. By virtue of this, energy can be saved all the time. Besides, more stable power can be provided and then component lifespan can be extended.
To offer crystal clear audio, in addition to Realtek ALC885 which supports 8 CH audio with high S/N ratio of 105 dB, DK P55-T3eH9 incorporates Creative X-Fi extreme fidelity technology. Thus, users can derive enjoyment as if they are in the theater from watching movies at home. In games, the superb sounds are so real to help players locate enemies merely by listening. This kind of awesome experience with rich and crystal clear surround sounds should not be missed!!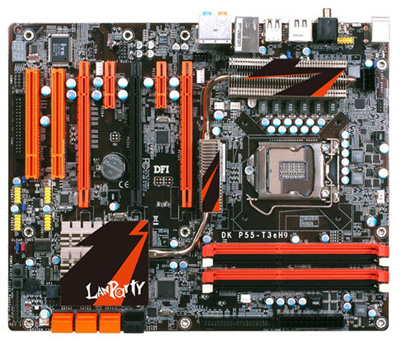 Another highly useful feature of DK P55-T3eH9 is BIOSecure technology which enhances BIOS protection to 100%. In the aim of avoiding all the nuisances resulting from BIOS damage, LANParty designs BIOSecure in DK P55-T3eH9. As long as users download BIOS in other computer and connect it with the computer of damage BIOS via a Mini-USB port, even without power-on BIOS still can be updated. Apart from other solution of back-up BIOS, BIOSecure provides a user-friendly solution and 100% recovery from BIOS damage. Users do not worry about the crash when both BIOS malfunction.
LANParty DK P55-T3eH9 contains extreme cooler design, including sintered heat pipe with tin-soldering and pure copper heat-spreader so as to lower system heat more efficiently and then render stable and high performance. Moreover, express power eSATA and convenient back-panel Clear CMOS button are designed in the motherboard. DK P55-T3eH9 also supports SLI and Crossfire multi-graphics technology and uses exclusive Intel GbE express LAN chip. With these fabulous designs and pioneering technology, you will be impressed by DK P55-T3eH9 !
About DK P55-T3eH9
Intel® P55 Express Chipset
Supports Intel® Processors in the LGA 1156 Package
3.Supports Dual CH DDR3 800/ 1066/ 1333
3 PCI Express Slots Supports SLI & CrossfireX
7.1 CH HD Audio + Creative X-Fi
ABSII,CPU Auto Upgrade Technology
BIOSecure Technology,100% Recovery from BIOS Damage
Digital PWM, Providing High Power Transforming Rate
Source: DFI