India's Leading Convergence Solutions Device Developer, Olive Telecom, launched today the first 3.5G Pad in India, the OlivePad VT100.
Olive Telecom brings India to the front of convergence technology with its new OlivePad.
The OlivePad is powered by the Android Operating System and is designed to be multi functional device. It supports 3.5GB HSUPA, Wi-Fi and Bluetooth. The OlivePad features a three megapixel camera and another front camera. The OlivePad can be used as a touch notebook, for Multimedia, for Instant Messaging and for easy access to social networking. It can also be used as a GPS navigation system, a gaming console, and an e-book reader. With the front camera, the OlivePad can easily be transformed into a smart phone which will allow voice and video calling.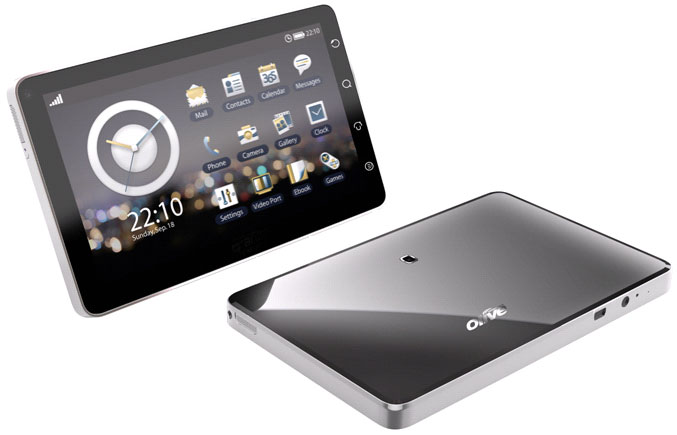 Speaking at the launch of India's First Pad, Mr. Arun Khanna, Chairman, Olive Telecom said, "At Olive, it has been our constant endeavor to create products driven by technology at the forefront. With this launch, we are bringing consumers to experience cutting edge technology that the world has been talking of. It is the true convergence device that brings together the Computer, Mobile Phone and Entertainment on one platform. The Olive Pad is aimed at today's technology savvy generation who want easy on the move connectivity."
Unveiling the new product, Mr. David Hind, CEO, Olive Telecom, Americas said, "We are excited to launch the much awaited OlivePad in India. This latest creation from Olive willOLIVE PAD – VT100bring revolution in the field of technology with its magical features & stylish looks. Our global consumers are going to love this device because of the experience that it provides."
Mr. Artem Orange, CEO for Olive Telecom, CIS/CEE said "With Olive Pad we launch a new generation of mobile devices which become your true window to the world in your pocket. With the same concept, we will evolve into more and more convergence devices giving the same reach and affordable experience to customers in India and across the world. We have received tremendous response from operators and consumers in highly sophisticated markets of Central, Eastern Europe and Russia and expect to launch Olive Pad in that market in the near future."