LG Electronics (LG), a worldwide technology and design leader in mobile communications, today announces the launch of the LG GW520 and LG GT505. These two new handsets enable consumers to be at the heart of their online communities anytime, anywhere, with push updates from social networking sites and both business and personal email.
Following the success of LG's feature-rich messaging device the LG KS360, these new additions boast more messaging functions that are smarter and easy-to-use. The LG GW520 and the LG GT505 are the first LG phones to offer push social networking updates allowing consumers to receive alerts from multiple social network sites as they are posted. Users now have the ease of use and functionality to update their own statuses, personal pages or photos. Both new models support push email for personal accounts and have Microsoft Exchange ActiveSyncfor business accounts.
"Mobile communications have been about more than just voice based calls for a long time, but consumers are now demanding more than just SMS and IM services. They want the kind of messaging and social networking features previously the preserve of high end handsets on a wide range of models, and that is what LG is offering. We recognise the demand for mobile devices that enable quick and easy interaction with social network sites as a growing market. LG aspires to be at the forefront of this with the launch of these great mobile phones." said Jeremy Newing, head of marketing,
LG Mobile UK.LG GW520
The LG GW520 is a mobile made for messaging be that via social networks, email or SMS and IM. It enables users to connect to their communities and grow their social life on the move.
Features of the LG GW520 include:
– 2.8″ full touchscreen
– Full slide-out QWERTY keypad
– Push email via Microsoft Exchange ActiveSync
– HSPDA 7.2
– 3G enabled
– WAP 2.0 browser
– 3-megapixel camera
This handset also includes LG's LiveSquare feature which enables the consumer to see those friends that you talk to most often appearing as an animated character on the homescreen. These characters enable quick and easy access to a contact at the click of a button.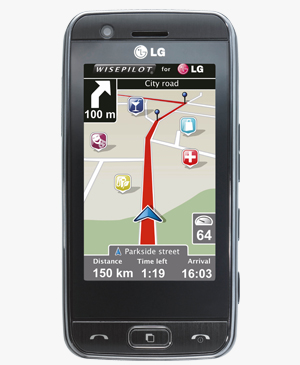 LG GT505
The LG GT505 allows easy navigation using Wisepilotfor LG. This handset comes preloaded with a 30-day free trial of WisePilotfor LG, a turn-by-turn navigation solution, which offers voice instruction and a choice of 2D and 3D mapping to guide users to their destinations.
Features of the LG GT505 include:
– 3″ full touchscreen
– GPS
– 30-day free trial of WisePilot
– Push email via Microsoft Exchange ActiveSync
– Wi-Fi (TM)
– HSDPA 3.6
– 3G enabled
– Voice instruction
– 5-megapixel camera
The LG GW520 will be available widely across most networks in June 2009.
The LG GT505 will be available on Orange from June 2009.
Source: LG