Sharp has announced an update to their Aquos D-series LCD TV line-up which to be more eco-friendly and consumes less power.
Sharp claims …"New to launch the D series, the sound quality improved, as well as the dramatically enhanced performance. Proprietary technology and efficient energy saving and efficiency of the backlight power supply circuit, 32V-<LC-32DE5>, annual energy consumption 66kWh / year (※ 4 power consumption of about 60W), energy-saving rate achieved 303% achieved. Also, 26V-<LC-26D50> the power consumption of 65kWh / rate of energy saving achieved in 238%, 20V-power consumption <LC-20D50> Year 55kWh / year rate achieved in 200% energy saving, both No.1 industry has achieved."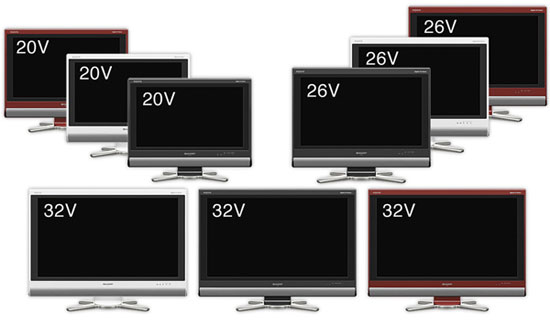 These new energy saving technologies, expand into new large-size order, to aim at further energy saving LCD television.
In terms of quality, high-quality new development enhance the image processing LSI, the high image quality achieved by the rich expressive tone. The surface quality, the adoption of a new amplifier bit by all the digital speech processing, natural and clear sound quality. 32V 26V type "bass reflex port side" approach has been achieved in the bass punch.
In addition, a unique uniform colors red white black cabinet colors are available according to your taste and interior room."
These TVs are available in 32″, 26″, and 20", have resolution of 1366×768 with a contrast ratio of 3000:1 on the 32" and 1500:1 on both the 26″ and 20".
Source: Akihabara News,  Sharp