Now you can relax and immerse yourself in an undisturbed world of hi-fi sound, whether you're travelling, working or just enjoying some quality 'me time' at home.
The beautifully styled MDR-NC300D from Sony is the world's first in-ear headphone that uses digital noise cancelling to cut distracting noise.
Advanced Artificial Intelligent Noise Cancelling (AINC) continuously monitors and analyses ambient noise around you, whether you're flying, on the bus, in the train or a busy office. The MDR-NC300D uses this information to select the optimal anti-noise profile at every instant. It's totally automatic, with no need to select NC modes while you're listening. The result is crystal-clear, detail packed music with an extraordinary 98.4% reduction in ambient noise.
Complementing its phenomenal noise cancelling performance is serious hi-fi performance. Exclusive to Sony, S-Master Digital Amplifer technology assures a commanding, detail-packed soundstage with any music source. There's also a choice of 3 selectable sound modes (Movie, Bass, Normal) that fine-tune frequency response to suit your personal listening preference. Audiophile sound quality is further enhanced by the super-size 16mm Neodymium driver for rich, smooth sound and powerful, extended bass.
The headphone's vertical in-ear design is designed for maximum comfort during extended listening sessions. It's supplied with 7 sizes of soft silicone earbud for a perfect fit.
There's also a convenient monitor switch that switches off digital noise cancelling if you need to hear in-flight announcements or whatever's going on around you. A single AA battery provides power for up to 20 hours of uninterrupted listening.
MDR-NC33 in-ear noise cancelling headphone
Also available, the new MDR-NC33 in-ear headphone offers superb noise cancelling performance at a very attractive price.
Delivering an incredible 100 hours listening time with a single AAA battery, the MDR-NC33 cuts ambient noise by an impressive 90% while you're travelling or listening in busy environments.
Sound quality is clear and satisfying, with powerful, vivid bass delivered by the large 13.5mm Neodymium driver. Like the MDR-NC300D, the vertical in-ear design offers excellent listening comfort, with three sizes of silicone earbuds included for a perfect fit.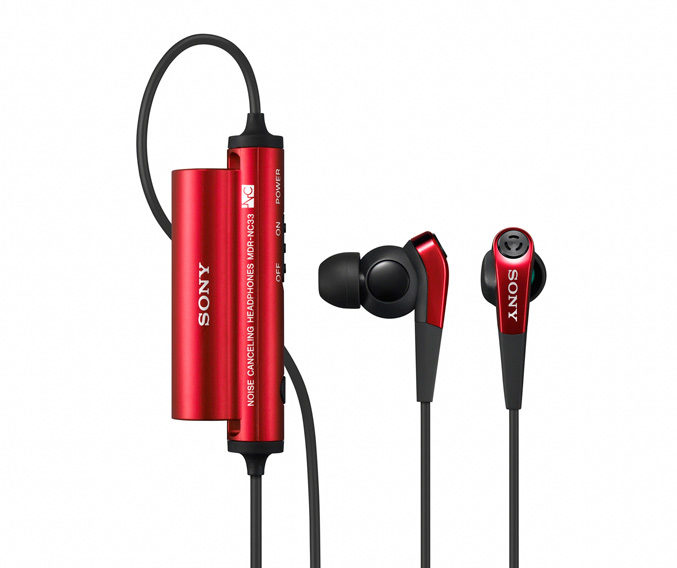 The MDR-NC300D and MDR-MC33 in-ear noise cancelling headphones are available from October 2009.
Source: Sony