Ymaha intros DSR Series active loudspeakers
Yamaha has introduced a new DSR Series of active loudspeakers with price range from US$1,199.00 MSRP to US$1,649.00 MSRP and  featuring "an ideal combination of advanced digital sound processing and the latest acoustic technologies for Integral Digital Tuning, plus our all-new D-CONTOUR (Dynamic-CONTOUR) multi-band dynamic processing for Intelligent Dynamic Control."
The new DSR Series for now include three full-range models – DSR112 – 12″ 2-way Active Loudspeaker, DSR115 – 15″ 2-way Active Loudspeaker, DSR215- Dual 15″ 2-way Active Loudspeaker and DSR118W-18″ Active Subwoofer with 800W Class-D amplifier with PFC switching mode power supply and Maximum SPL 132dB peak.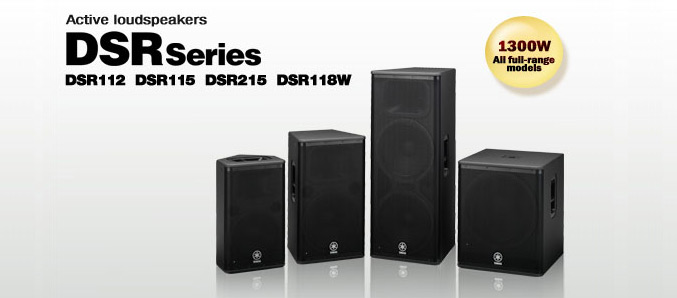 "We are delighted to be able to release this groundbreaking DSR Series at last." said Kazunori Kobayashi, General Manager of Yamaha's Pro Audio Division. "All of our leading-edge digital technology, electronic and acoustic technologies have been incorporated into these new products."
Main Features
Next-generation active loudspeakers incorporating high performance DSP and all-new high power Class-D amplifiers with PFC switching mode power supply *full range models only
Advanced digital sound processing with 48-bit internal processing (76-bit Accumulator)

FIR-X tuningT for the smoothest possible crossover transitions
High power DSP and 24-bit discrete ADCs and DACs for maximum dynamic range

D-CONTOUR (Dynamic-CONTOUR) multi-band dynamic processing provides consistent clarity at both high and low output levels
Compact and lightweight, yet capable of 1300W*(LF850W, HF450W) power output. Loudest, cleanest output of any loudspeakers in their class. *DSR118W:800W
Extensive protection of the transducers, amplifiers and power supply from high performance DSP.
Premium-grade, custom designed transducers
Exclusive LTBD (Long Throw, Broad Dispersion) Constant Directivity Waveguide Horns provide expansive 90° × 60° coverage.
Stand and pole mountable, with 35mm pole sockets (DSR112, DSR115).
M10 rigging points for suspended installation (DSR112, DSR115).
DSR112 can be tilted for use as a floor monitor.