Sony has revealed its new Home Theater Receivers line for 2011 that bring more advanced features to the consumer. There'e four new models: STR-DN1020, STR-DH820, STR-DH720, and STR-DH520 which are all 3D Compatible and feature Audio Return Channel via HDMI ver1.4a and Dolby TrueHD/DTS-HD Master Audio decoding and Dolby ProLogic IIz processing.
The flagship STR-DN1020 7.2 channel, 110 watt (8ohms 1kHz 1% THD) receiver features a Faroudja DCDi Edge video processing chip that up converts and upscales analog signals to near 1080p HD quality via HDMI and is packed with Digital Legato Linear (D.L.L.) advanced sound processing technology that improves audio fidelity. D.L.L. analyzes standard definition (compressed) audio signals such as Dolby Digital and dts format sound and upscales them to 192 KHz resulting in higher quality audio.The audio fine tunning is also boosted by Sony's advanced Digital Cinema Auto Calibration (D.C.A.C.) with Automatic Phase Matching and Sound Optimizer technologies, which measures and analyzes room acoustics, and adjusting the receiver's output to deliver the best possible audio, while allowing all of the speakers to use the same phase as the front channels., while at the same time, Sound Optimizer "automatically improves audio for a consistent surround image at any volume level."
It is Digital Living Network Alliance (DLNA) certified allowing you to play music from your PC/laptop or other connected DLNA device, as well can also stream audio to Sony's HomeShare wireless network speakers and features Sony's PartyStreaming mode with synchronized playback on multiple speakers. It gives you also access to Internet audio services including Slacker and vTuner and can be controlled by Phone, iPod touch or Android mobile device via Sony "Media Remote" app which is available in App Store or the Android Marketplace.
All models will be available this spring.
A full list of features includes:
110 watt x7 (8ohms 1kHz 1% THD)
Access to streaming Internet audio services
Synchronized playback on Sony HomeShare wireless network speakers
iPhone/iPod touch remote control app
iPhone /iPod video and music playback via included dock
Upconvert/upscale from analog to 1080p video via HDMI (Faroudja DCDi Edge)
HDMI 3D pass-through
Seven HD inputs (four HDMI, three component)
D.L.L. advanced sound processing
Sony's Advanced D.C.A.C. with Automatic Phase Matching
Sound Optimizer
Advanced on-screen graphic user interface
Second zone audio and video
Dual subwoofer pre-outs
IR in and out
Audio return channel
Standby pass-through of audio and video via HDMI connected devices
BRAVIA Sync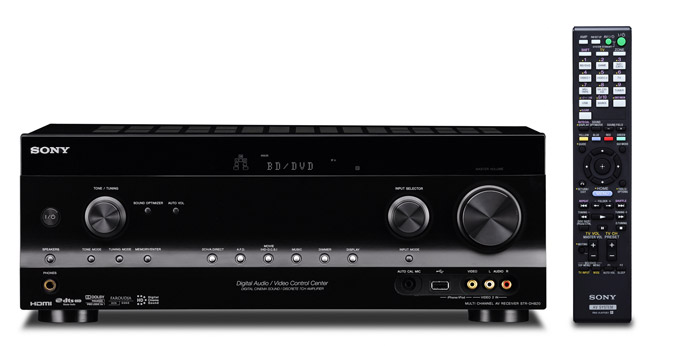 STR-DH820 7.2 Channel AV Receiver
Available in March for about $400
110 watt x7 (8ohms 1kHz 1% THD)
iPhone /iPod video and music playback via included dock
Upconvert/upscale from analog to 1080p video via HDMI (Faroudja DCDi Edge)
HDMI 3D pass-through
Seven HD inputs (four HDMI, three component)
Digital Legato Linear (D.L.L.) advanced sound processing
Sony's Advanced D.C.A.C. with Automatic Phase Matching
BRAVIA Widget unified TV on-screen interface
Advanced on-screen graphic user interface
Second zone audio and video
Dual subwoofer pre-outs
IR in and out
Audio return channel
Standby pass-through of audio and video via HDMI connected devices
BRAVIA Sync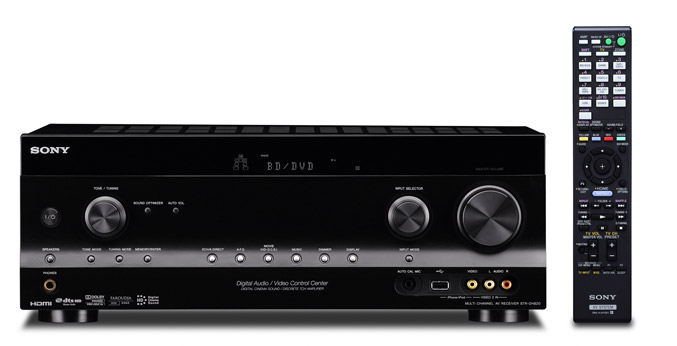 STR-DH720 7.1 Channel AV Receiver
Available in March for about $300
105 watt x7 (8ohms 1kHz 1% THD)
HDMI 3D pass-through
Audio return channel
HD Digital Cinema Sound (HD D.C.S.)
Standby pass-through of audio and video via HDMI connected devices
Upconvert/upscale from analog to 1080i video via HDMI (Faroudja DCDi Edge)
Six HD inputs (four HDMI, two component)
iPhone/iPod video and music playback via USB
Advanced Auto Volume
On-screen graphic user interface
BRAVIA Widget unified TV on-screen interface
Sony's Digital Cinema Auto Calibration
BRAVIA Sync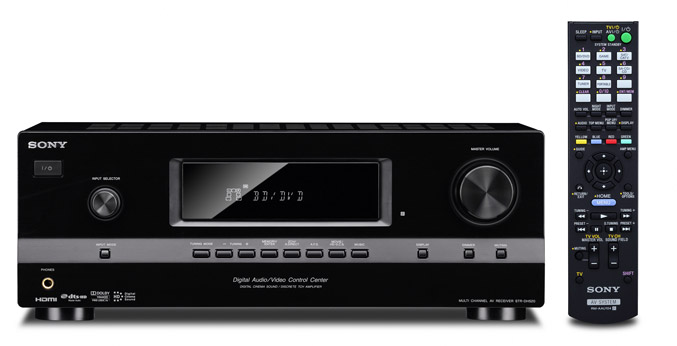 STR-DH520 7.1 Channel AV Receiver
Available in March for about $230
100 watt x7 (8ohms 1kHz 1% THD)
HDMI 3D pass-through
Audio return channel
Standby pass-through of audio and video via HDMI connected devices
Six HD inputs (four HDMI, two component)
Dolby TrueHD, Pro logic IIz and dts HD Master Audio Enhanced Audio Codecs
Advanced Auto Volume
BRAVIA Widget unified TV on-screen interface
HD Digital Cinema Sound (HD D.C.S.)
BRAVIA Sync