TDK Life on Record, a portfolio brand of Imation Corp. announced the addition of two new premium headphones to its line of high-fidelity audio products, designed to deliver an immersive listening experience. The new WR700 Wireless Headphones are built with Kleer™ proprietary lossless audio technology that delivers significant improvements in sound clarity over other wireless technologies. The new EB900 In-Ear Headphones, with Comply™ foam ear tips, provide a dynamic full-range listening experience and superior comfort during extended wearing.
"Audio enthusiasts worldwide have long recognized the TDK brand as a leader in sound fidelity," said Stephanie Juaire, global brand director for TDK Life on Record. "Drawing on our brand's long audio heritage, our newest TDK Life on Record headphones deliver not only superior sound but also an updated, contemporary design. These premium wireless and in-ear headphones have been designed for high fidelity, accurate audio reproduction and a compelling listening experience."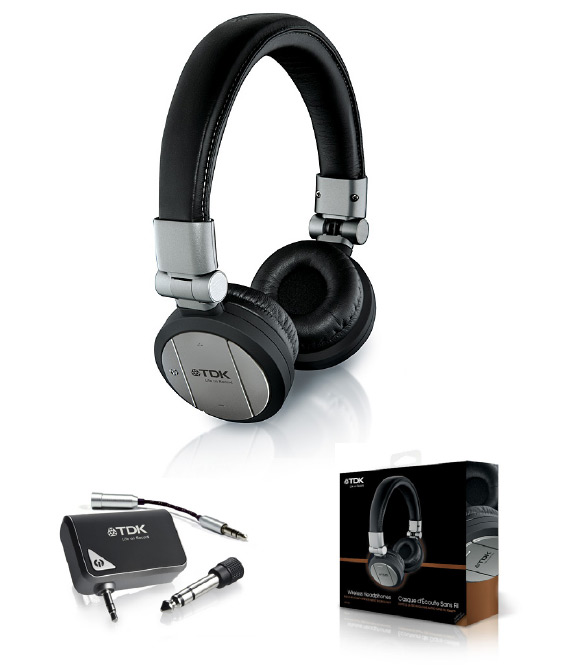 WR700 Wireless Headphones
TDK Life on Record WR700 Wireless Headphones let you move without the limitations of a cord and still get the high fidelity stereo sound you crave. Simply plug the transmitter into your in-home stereo system or mobile audio device and sync it with the headphones. The Kleer™ lossless, wireless audio technology delivers uncompressed digital audio in 16-bit, 44KHz-diital audio at CD quality. Compare it to other technologies that compress the audio prior to transmission, like Bluetooth™, and you will hear the difference. The WR700 also offers dynamic channel selection, which eliminates signal "drops," a clear advantage over WiFi. And Kleer's Listen In™ technology enables users to share their music experience with up to four wireless headphones listening simultaneously to the same audio source. A distinct additional advantage is ultra-low power consumption: Just four AAA batteries, two in the transmitter unit and two in the headphones, provide 30-40 hours of listening time. The wireless transmitter is compatible with all audio devices using a 3.5mm headphone port.
EB900 In-Ear Headphones
Built to deliver high-fidelity audio and superior comfort during extended wearing, the TDK Life on Record EB900 In-Ear headphones feature Comply™ foam tips that create an in-ear seal blocking most ambient noise. The headphones 8.5mm high-performance micro-drivers provide dynamic sound across a wide spectrum, including superior base. The EB900 features a braided cable that virtually eliminates the problem of tangles and provides and upscale look and feel. For a perfect match and alternative fit, three extra sizes of silicon tips are included.
Pricing and Availability
TDK Life on Record WR700 Wireless Headphones are available in North America through select online retailers at a manufacturer's suggested retail price (MSRP) of $US 249.99. TDK Life on Record EB900 In-Ear Headphones, also available at select online retailers have an MSRP of $US 89.99. For more information, please visit the TDK Life on Record Web site at www.tdk-media.com.
Source: Imation