Music lifestyle brand V-MODA  introduced the latest addition to its venerable line of Vibe luxury headphones. Vibe II with Microphone, the most fashion-forward headphone for all Apple iPhone® and iPod® models, is a noise-isolating dual-use headphone/headset that redefines the headphone category by fusing the finest elements of design, function, high-definition acoustics and ergonomics. V-MODA will launch the headphone exclusively at the Apple Store, Apple.com and shop.v-moda.com in time for the busy holiday shopping season.
Vibe II with Microphone offers the optimum experience in sight, sound and touch, featuring a solid and tactual sensation comparable to the finest jewelry and watches. The revolutionary stainless steel alloy headphones are one of the first consumer electronics pieces to be meticulously handcrafted via an environmentally friendly metal manufacturing process, defining the headphone as a true piece of progressive machine art. The earbuds feature a contrasting jewel accent in the center and are complemented by a luxurious fabric cable that blends seamlessly with a sleek in-line hands-free microphone, call/music controls and removable sport earhooks. Vibe II with Microphone is currently available in Nero (black) and Chrome Rouge, with more colors to come.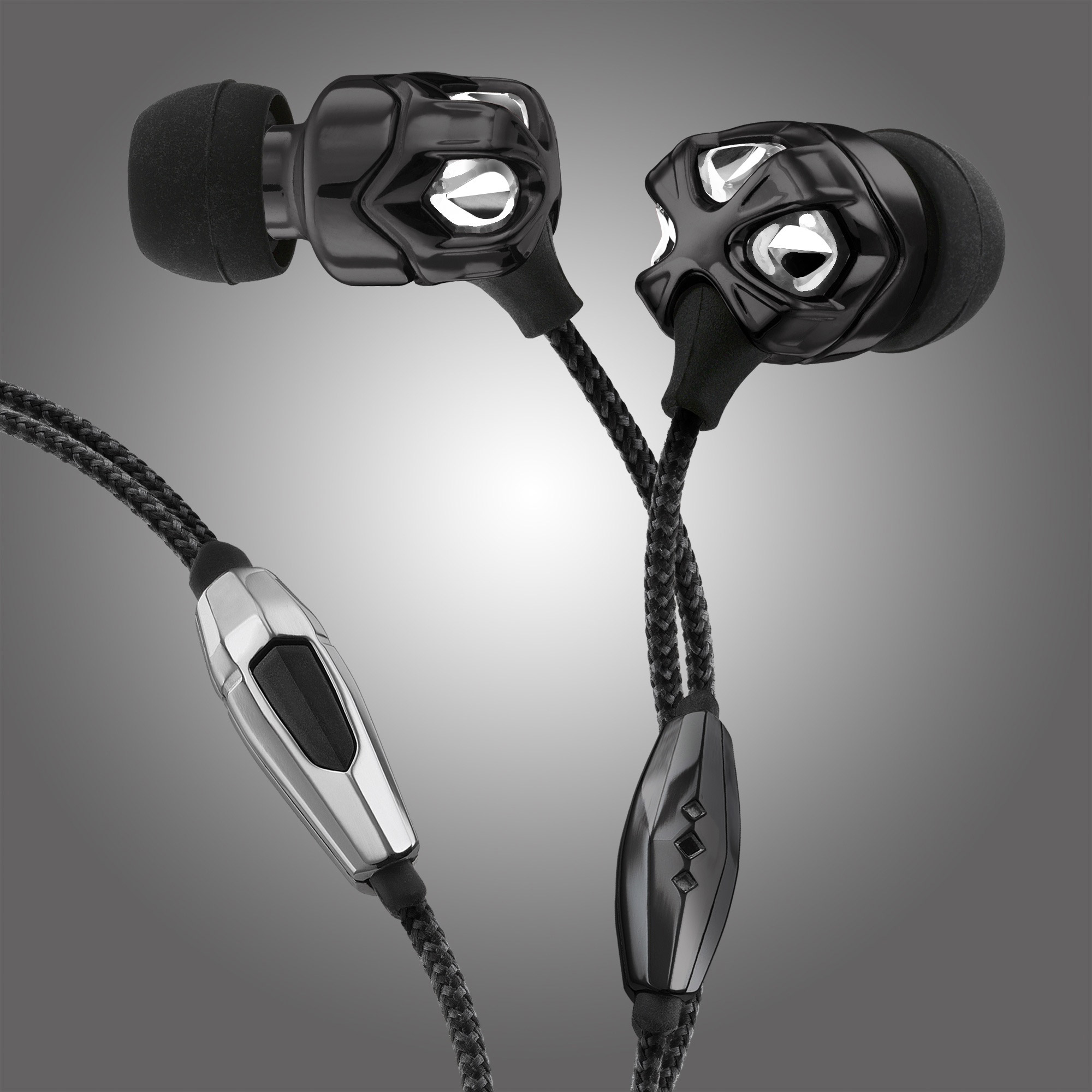 "We're excited to introduce Vibe II, as we believe the headphone is the first to bring together the finest elements of design, music, fashion and world-renowned audio – all of which epitomize the V-MODA brand,""We saw Vibe II as a fashion accessory from its inception and wanted a breakthrough design as the crux. We were inspired by the elegance, design and beauty of Beverly Hills' most elite rock-inspired jewelers and wanted to integrate this philosophy into our product line." said Val Kolton, founder and CEO of V-MODA.
The CEO and electronic music producer/DJ went on to say, "Every detail of Vibe II speaks to our credo – from the stainless steel alloy earbuds' unique, solid feel to the headphone's out-of-this-world sound quality. Countless hours of research and testing went into creating a headphone that guarantees spine-tingling acoustics that are far more advanced than even our previous award-winning headphones. While producing and engineering music collaboratively with world-renowned musicians, we vigorously tuned Vibe II to ensure it's truly a unique, pocket-sized hi-fidelity headphone that evokes the soundstage, bass and sensations of the ultimate music experience. Our customers have told us that this precise attention to detail is what they look for when it comes to their hearwear, and Vibe II was created to give consumers exactly what they've asked for."
V-MODA has developed a new uniquely shaped 8mm V-MASQUE dynamic driver that is engineered to provide a natural, organic, signature 3D soundstage as opposed to many competitors' mechanical and clinical sound. The acoustics are tuned to suit all genres and really shine with bass-heavy genres including dance, house, rock and hip-hop. BLISS (Bass Level Isolating Soft Silicone) technology further reduces outside noise for a precise and rich bass response (frequency 12Hz to 22Hz). The earbud is small enough that it comfortably rests on the top of the ear canal, attaining an ergonomic fit for even the smallest of ears. The plug features a 45-degree flexible design in order to allow the optimal range of motion for long-term durability while maintaining a sleek, sturdy 24-carat gold-plated metallic core.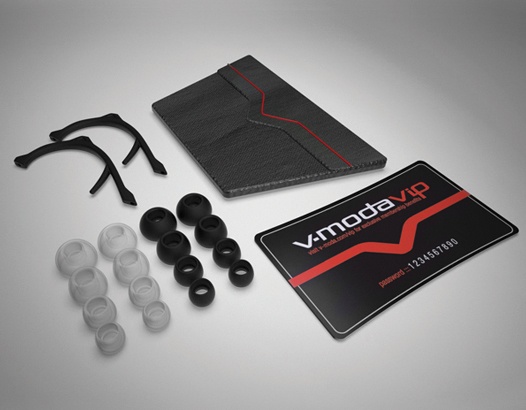 For optimal personalization, each headphone comes with unique accessories, including four pairs of black and clear medical-grade silicone fittings (XS, S, M, L) to ensure the perfect fit for any size ear. The two pairs of extra-small silicone fittings are new additions to V-MODA's product line. Also new to the included accessories are lightweight, minimalistic, detachable sport earhooks that feature ACTIVE FLEX, a unique technology that allows the headphones to independently adjust to each ear regardless of the earhook's position. These removable sport earhooks provide added stability for rigorous workouts and running. A fashionable designer carrying pouch is included to provide an added sense of luxury while on-the-go. Customers also receive a VIP card as a unique added bonus that provides access to V-MODA Musique podcast downloads, music, fashion, and event previews.
Spec
Frequency Response: 12 Hz – 22 kHz
Speaker Driver: 8mm V-MASQUE dynamic technology, neodymium rare earth magnet
Cables: 32" plug to y-connector,13.5" even-length earphone cables
Plug: 24k gold-plated, 3.5 mm (1/8") stereo plug
Weight: 22g
Warranty: One year V-MODA premier warranty
PRICING AND AVAILABILITY
Vibe II with Microphone is available at a suggested retail price of $128, a nod to the beats per minute (BPM) of most dance music tracks. The product can be found exclusively through Apple, both in retail locations and online at Apple.com, as well as at Shop.v-moda.com. The product is backed by a risk-free satisfaction guarantee and one-year premium warranty. Please visit
v-moda.com for more information.