JVC  announced a new video camera that offers the performance, features and handling demanded by video enthusiasts. The new JVC HD Everio GZ-HM400, available immediately, emphasizes image quality and usability in a design that videographers will find allows comfortable extended use.
The HD Everio GZ-HM400, which records to an SD/SDHC card and includes 32GB of internal memory, features a 10.3-megapixel CMOS sensor that delivers nine-megapixel still images and 1080 TV lines of horizontal resolution for Full HD video. High-speed recording of up to 600fps is also possible for slow-motion playback of sports and other fast action. The camera's features are easily accessible through an intuitive user interface that features analog-like dial adjustment and direct-access buttons.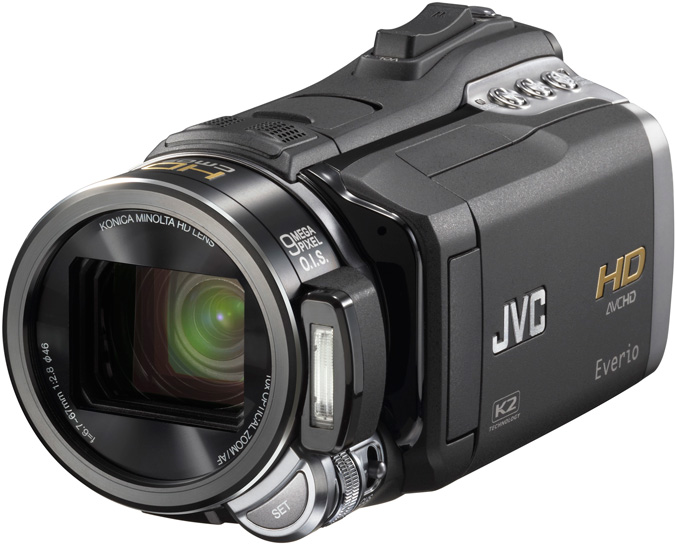 The core image sensing device for this camera is a 1/2.33-inch 10.3-megapixel CMOS sensor with Bayer Array RGB Color Filter. This translates into obvious advantages in digital still photography, as nine-megapixel stills are possible without any need for interpolation.
For video, the high-speed image processing of 5.3 million effective pixels applied by the HD Gigabrid Premium II Engine's super high-band processor results in 1080 TV lines of horizontal resolution – the theoretical maximum level of 1920 x 1080 Full HD. What's more, the 24 Mbps recording capability of this engine (UXP mode) – the highest bit rate possible for AVCHD video – delivers detailed images with fluid motion.
Optically, the GZ-HM400 features a KONICA MINOLTA HD LENS that provides a high-resolution image source. But perhaps more noteworthy is the JVC-developed optical image stabilizer that uses two active prisms to correct camera shake at the lens entrance before the image enters the lens. The two prisms, compensating in the horizontal and vertical directions, provide the same effectiveness throughout the entire zoom range, from wide to telephoto.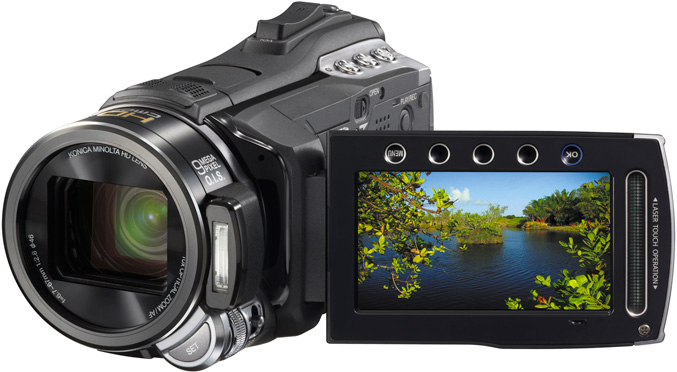 On the top of the camera are three buttons, "A", "S" and "U", for selecting shooting modes. "A" selects the Aperture Priority Setting, "S" is for selecting the shutter speed, and "U" is User-Assignable, which lets users assign their own frequently used settings to this button. Positioned next to the lens barrel are controls for manual brightness and focus adjustment; just tilt a lever switch to select either brightness or focus, then turn the manual adjustment dial in the direction desired. This "analog" type control provides more intuitive operation and allows fine-tuning of both settings. What's more, when used in conjunction with the SET button, this same dial allows easy setting of various other functions with menu-free simplicity.
Zoom is controlled by a seesaw-style zoom lever, which provides smooth zooming. The body is sculpted to offer a sure-grip contour, and size-balanced to afford extended operation with reduced fatigue.
Three different high-speed recording modes are available for slow-motion video playback: 600fps, 300fps and 120fps. For instance, at 600fps, motion occurring over a mere 2.4 seconds is slowed down to 24 seconds (10 times as long), enabling the user to capture crucial moments that are not visible to the naked eye. This function can be used as an effective tool for sport technique analysis, nature studies, and much more.
High-Speed Recording Time (approx.)

| | | | |
| --- | --- | --- | --- |
| Speed Mode | Image size | Recording time | Playback time |
| 600fps | 640 x 72 pixels | Approx. 2.4 sec. | Approx. 24 sec. (10x) |
| 300fps | 480 x 116 pixels | Approx. 4 sec. | Approx. 20 sec. (5x) |
| 120fps | 480 x 270 pixels | Approx. 4sec. | Approx. 8 sec. (2x) |
For still image shooting, up to 60fps 5.3-megapixel stills can be shot in a continuous burst of up to 11 images. Or, if preferred, continuous shooting of up to six nine-megapixel stills at up to 15fps is also possible. It is also possible to shoot 5.3-megapixel stills simultaneously while recording 1920 x 1080 Full HD video. 5.3 Mega Continuous Stills
| | | |
| --- | --- | --- |
| Speed Mode | Shooting speed | Maximum limit |
| High speed | 60 fps | 11 images |
| Medium speed | 10 fps. | 11 images |
| Low speed | 1 fps | No limit |
9 Mega Continuous Stills
| | | |
| --- | --- | --- |
| Speed Mode | Shooting speed | Maximum limit |
| High speed | 15 fps | 6 images |
| Medium speed | 7 fps | 6 images |
| Low speed | 2 fps | No limit |
JVC's K2 Technology, a proven technology in the audio field that restores fine sound details that are lost during compression, has been incorporated for the first time in a camera.
Other noteworthy features of the GZ-HM400 include Face Detection technology that identifies up to 16 faces to accurately adjust the focus and exposure, as well as One Touch Upload to YouTube™ and the One Touch Export function to easily export videos and stills to an iTunes® Library.
In addition to the SHARE STATION DVD Burner that allows easy AVCHD DVD burning without using a PC, this year JVC offers a new option for playback and enjoyment of GZ-HM400's recordings. The new CU-VS100 HD Media Player plays back AVCHD video saved on an SD card, with double slots for uninterrupted playback from two cards. HDMI connection to an HDTV assures maximum quality enjoyment without complicated wiring.
PC users will appreciate the GZ-HM400's Everio MediaBrowser, a single application for everything from simple editing to file playback and management.
The JVC HD Everio GZ-HM400 is available immediately at a nationally advertised value of $999.95.
Source: JVC