SANYO Electric Co., Ltd. is pleased to announce the launch of two new Dual Camera Xacti, the DMX-CG100 and DMX-GH1 on April 16, 2010. With slim and compact designs, the new models capture Full HD video and high-resolution photos, based on the Dual Camera concept of taking both videos and photos with one camera.
Instead of coming out with devices that are only used to record important events, the Xacti series aims to provide customers with more enjoyable video experiences, by offering cameras that users can conveniently carry everywhere to easily capture both photos and videos in daily life. By utilizing a convenient video format that can be easily handled on PC and Internet environments, as well as on home TVs, Xacti cameras are more than just hardware for capturing, viewing, and saving images. They are convenient products for sharing videos online, and on multi-media sites, thereby providing new ways to enjoy captured images. As a result, Xacti cameras have been very well received by the market.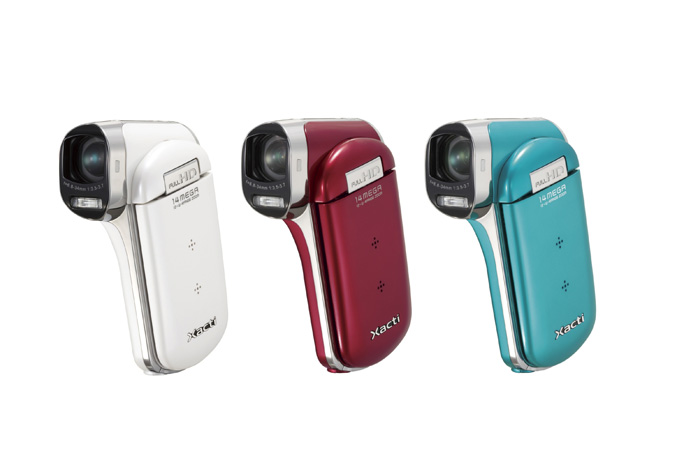 With slim designs for easy portability, the new Xacti models can capture both Full HD video and 14 mega-pixel photos. This makes them handy video cameras for use in a wide variety of daily situations or special events.
roduct

2010 Dual Camera Xacti

Product No.

DMX-CG100

DMX-GH1

Colors

White (W), Red (R), Blue (L)

Silver (S), Pink (P), Blue (L)

MSRP

Open Price

Sales Start

April 16, 2010

Monthly Production

15,000 units

5,000 units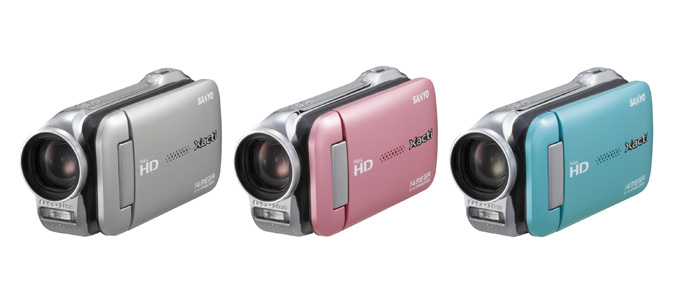 Main Features
Full HD video and 14 mega-pixel photo capture in a slim design
While the DMX-CG100 and DMX-GH1 both have slim compact designs, they can still capture Full HD video (1920 x 1080 (60i)) and 14 mega-pixel high-resolution photos.
The video format for the new cameras is "MPEG-4 AVC / H.264," which enables videos to be handled on a computer or the Internet using a single file, just like a still photo. This format is fully supported by the "Windows 7"*2 operating system launched last year, making it convenient to use in this WindowsR environment.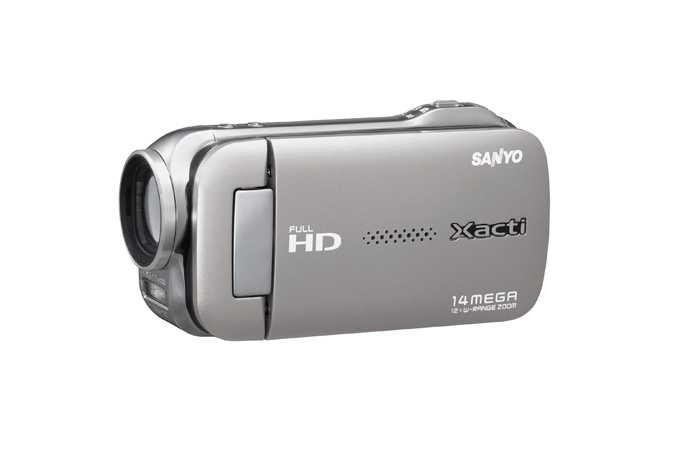 Since these video files can be seen with the same PC thumbnail displays as for regular photo files, it makes them even more convenient. They can also be played directly with Windows Media Player, edited using Windows Live Movie Maker, adopted for business applications such as animated Powerpoint presentations, and are even compatible with Device Stage.
2. "Double Range Zoom" covering an extensive scope from wide angle to 12x telephoto
The new models are equipped with SANYO's proprietary "Double Range Zoom" feature for zoom operation while filming video. With a touch of the Zoom Range Button, this technology allows users to effectively switch between two zoom ranges, a Wide Mode (40 mm to 240 mm) and a Tele Mode (80 mm to 480 mm), which changes the size of the video capture area on the image sensor. As a result, the new models offer an extensive range of video capture from wide angle to telephoto zoom for distant scenery, with a magnification of up to 12x (40 mm to 480 mm; 35-mm film basis).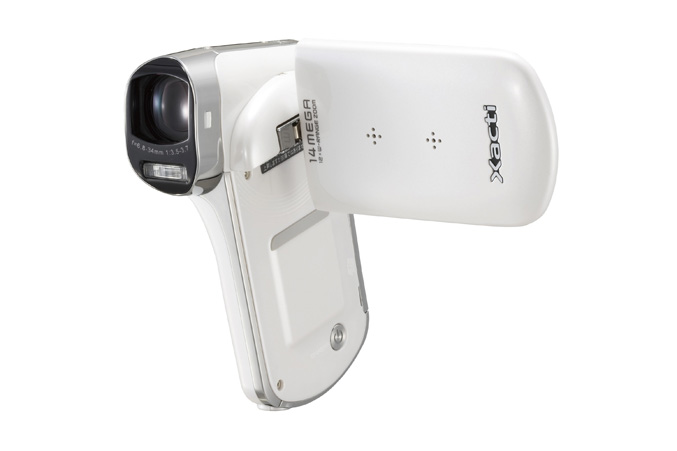 3. "Double Sub Rec Buttons" for easy capture of low-angle subjects such as children and pets
The DMX-GH1 features SANYO's unique "Double Sub Rec Button" for easier shooting. In addition to the regular recording buttons, there are also separate Double Sub Rec video and photo capture buttons on the upper front edge of the camera. This enables the user to capture a subject in a comfortable posture even when the subject is at a low angle. Now it is easy to capture scenes from the same standpoint as children and pets, for recording of a world that is different from the usual perspective.
4. Other Features
"Digital Image Stabilizer" and "Face Chaser Function"*7 for videos
"The new Digital Image Stabilizer," "Face Chaser Function" "Target a Color Function" for photos
"Reverse Sequential Shot Function" to prevent the missing of photo opportunities
"Mini HDMI Terminal" for the enjoyment of even more beautiful Full HD resolution
"Eye-Fi card compatibility" enables automatic uploading of images to a computer
Compatible with large-capacity recording media, SDXC memory cards
Source: Sanyo