Olympus Imaging Corporation is pleased to announce the FE-47, a compact digital camera featuring a 14-megapixel CCD 1, 5X optical zoom lens compatible with conventional AA batteries.Release is scheduled end of January 2010.
Main Features of the FE-47
1. High-magnification optical 5X zoom
2. 14-megapixel CCD and high-performance high ISO image stabilization
3. AF Tracking to keep a moving subject in focus by tracking it automatically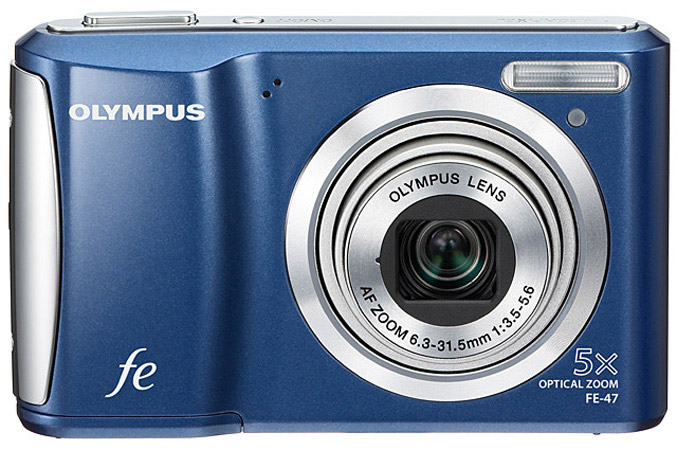 The "Fashionable & Elegant" FE series of digital cameras incorporate a high-power zoom lens with wide-angle shooting capability in a slim, stylish body, together with an enhanced selection of automated functions including the iAUTO (Intelligent Auto) function which automatically optimizes the camera's settings to best suit the scene being shot. Designed to make it easy for anyone to master the digital camera's three basic functions – "shooting, viewing and deleting", these cameras are simple, fun, and friendly.
The new FE-47 features four Magic Filter effects that instantaneously turn scenes from daily life into powerful, evocative images. With its genesis in the image processing technology inherent to the digital camera, this function takes picture-taking to a whole new level of inspiration and enjoyment. Another big feature, AF Tracking, makes it much easier to shoot fast-moving subjects such as children or pets. The camera tracks the moving subject automatically and keeps it in focus throughout so that the user can image it with optimum focus and brightness (exposure) simply by pressing the shutter button at any time during tracking.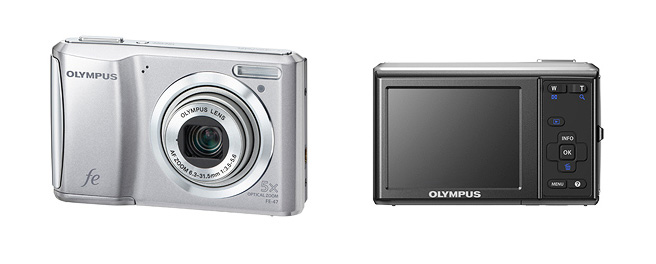 The FE-47 incorporates a 5x optical zoom lens. Other helpful, user-friendly features include selectable scene modes and various automated functions such as a still image editing function that can compensate for backlight images and red-eye even after shooting.
Basic Performance
Effective pixels 14 megapixels
Optical zoom 5X
Focal length 36-180mm (35mm camera equivalent)
Image stabilization High ISO image stabilization*2 (Using higher sensitivities)
LCD size 2.7-inch, 230,000 dots
LCD type TFT colour
Movie recording VGA (Motion JPEG)
Other Features
Shadow Adjustment Technology that detects faces of subjects and optimizes focus and exposure accordingly (i-AUTO)
Magic Filter effects for creative imaging in different image styles
Scene Modes for one-touch shooting adjustment in difficult environments as well as in standard conditions
Face Detection AF with which the camera detects and focuses on human faces automatically
iAUTO function that analyzes the current composition and optimizes camera settings automatically
AF Tracking to keep a moving subject in focus by tracking it automatically
Perfect Shot Preview function for compensating the exposure and white balance by comparing images on the LCD screen
Perfect Fix: Backlight exposure compensation and Redeye fix
New user interface: Pursuing the concepts of "Good operation feel" and "Easy to use"
Compatible media: SD memory card
Source: Olympus