Now there are even more reasons to show off your treasured memories. The new range of 'S-Frame' digital photo frames by Sony boasts best-ever HD picture quality plus a wide range of fun, easy-to-use viewing features.

With luxurious styling and a choice of screen sizes – from 7 inches up to a massive 10 inches – you'll find the perfect photo frame to flatter any interior.

Just slip in the media card from virtually any digital camera or connect a PC to transfer your photo collection. X-Series frames include an extra-large 2GB memory, capable of storing up to 4,000 photos (NB: images are saved at 2 megapixel resolution to increase effective capacity).

Range-topping X-Series models feature a Super Photo LCD panel. This newly-developed LCD displays incredibly natural, detail-packed images with extremely high contrast and reduced glare. You'll see the difference with deep, rich, blacks and opulent shadow tones, even in bright viewing conditions thanks to the Jet black feature.

Featured on all X- and V-Series models, the BIONZ imaging processor brings your pictures to life with exquisite detail, vivid colour and natural tones. This powerful image processing engine also accommodates large image files with ease, displaying the highest-resolution photos in moments when other photo frames struggle to keep up.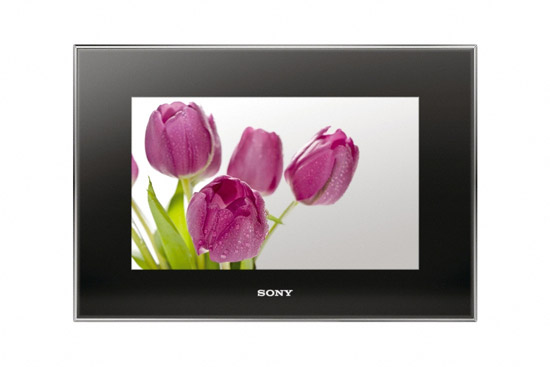 Powered by the BIONZ processor, Auto Touch-Up (X- and V-Series) now fixes an even wider range of common image problems. Red-eye, soft focus, skin blemishes and other faults can be fixed instantly to give your pictures even more sparkle, with no PC needed thanks to the Exposure correction.
Viewing options are wider and more accessible than ever before. There's a huge range of new slideshow modes, including clock, calendar, 'time machine' (slideshow with date of photo), scrapbook and creative view modes to show off your images. You can even create your own calendar with the desired picture for each month and add a reminder (for example birthday or anniversary) via icons or directly add text

Easy-to-use new picture search functions (X- and V-Series) make it easy to track down your favourite photo from hundreds or thousands. Stored images can be browsed by events, markers or folders, helping you pinpoint the right picture in moments. If you copy a folder from your PC it will keep the name making it much easier to find the picture of your holiday in the Caribbean.

All S-Frame models feature an auto-orientation sensor. This intelligently 'flips' images so they're always displayed with correct orientation, whether the frame is placed in portrait or landscape positions.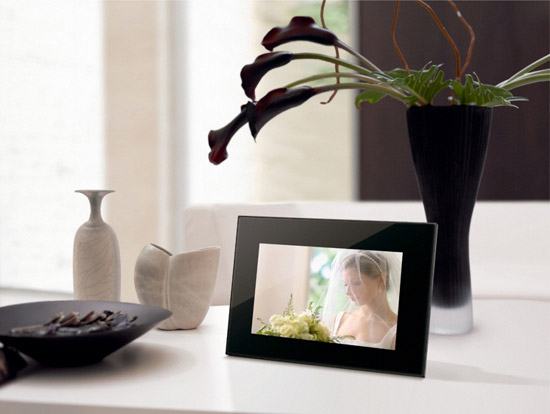 A new alarm clock function lets you wake up to your favourite pictures. There's also a new auto-dimmer (X- and V-Series) that reduces panel brightness when room lighting levels are reduced so no waste of energy, in term of eco friendly as well you can choose the time when you want it on or off.

X- and V-Series models can be connected to any HD Ready television, letting you enjoy big-screen slideshows with musical accompaniment.

The new range of S-Frame digital photo frames by Sony is available from April 2009.