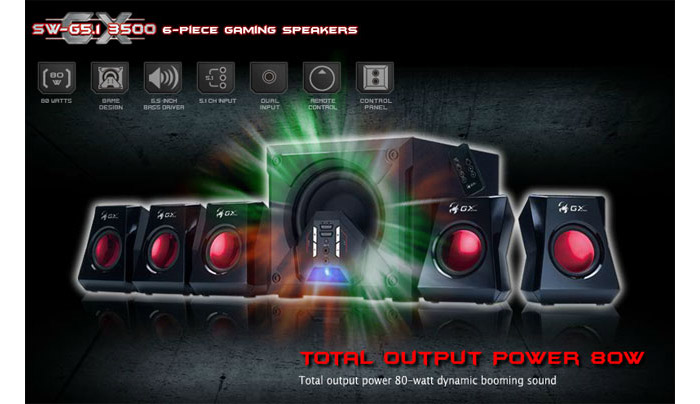 Genius has made available a new speaker sound system designed for gamers and music lovers – the GX Gaming SW-G5.1 3500. The new company product is already on the US and Canadian markets where users can obtain it for USD 149.99.
The Genius GX Gaming SW-G5.1 3500 sound system belongs to the family of 80-watt RMS speaker systems and comes with a 6.5-inch subwoofer that offers 30 watts of bass, five 10-watt satellite speakers for positional audio and a remote control for convenient volume and bass adjustment. Furthermore the satellite speakers can be hung on walls for more convenience and better all around audio experience.
The Genius GX Gaming SW-G5.1 3500 offers great flexibility too – users can adjust sound and bass from the control panel on the subwoofer as well as on the remote control. The system can function in two modes – one for music listening and another for gaming – that can be chosen by using the integrated AUX/5.1 CH switch function.
Users also get a LED indicator on the subwoofer, a headphone and microphone jack for private listening and chatting while gaming and for connecting various external audio devices and smartphones to the speaker system. On the back there are RCA jacks with 5.1-channel color coding and an additional AUX 3.5 mm input.
Available now in the US and Canada the Genius GX Gaming SW-G5.1 3500 will soon make it to other parts of the world.
Source: Genius